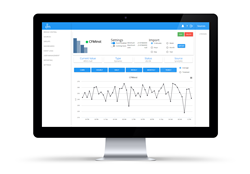 Ankeny, IA (PRWEB) April 14, 2015
QA Graphics is proud to be announced as one of eight finalists for this year's Consulting-Specifying Engineer 2015 Product of the Year Awards in the BAS, Controls, and Energy Management category.
QA Graphics' Bridge Data Manager v4.0 allows companies to capture data accurately and efficiently in real time. Users own and control their own data. The Bridge Data Manager is built on the powerful Microsoft .NET Framework to run as a Windows service. This data logging tool can be deployed in any network configuration, conforming to IT security policies. View collected data through Bridge's intuitive, Web-based user interface. It is compatible with standard Microsoft Excel and SQL reporting tools, offers SSL security to prevent network attacks, data leaks, and secured data access, and can be integrated with Energy Star data using the Dept. of Energy's Portfolio Manager.
Consulting-Specifying Engineer's Product of the Year (POY) contest is the premier award for new products in the HVAC, fire/life safety, electrical, and plumbing systems engineering markets. Voting for the Product of the Year is open and will close on June 26, 2015. Winners will be announced on September 17, 2015. To cast your vote, visit: https://www.surveygizmo.com/s3/2085353/5e7420311448
About QA Graphics
QA Graphics is a leader in the building automation and green building industries, providing HVAC graphic development services, system graphics, floor plan graphics, and energy dashboards to help organizations educate occupants about building performance and sustainability. The company also provides marketing solutions such as interactive applications, 3D design and animation, mobile app development, videos, and other multimedia. Visit http://www.qagraphics.com to learn more.