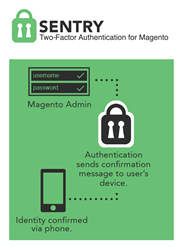 "With this integration, retail customers of all sizes using Magento can now have strong authentication to improve security and better comply with PCI DSS." - Duo Security CTO Jon Oberheide
Ann Arbor, MI (PRWEB) April 20, 2015
Human Element, a Magento development agency and Magento Silver Solution Partner, is proud to announce the release of Sentry Two-Factor Authentication for Magento. This free, open-source extension, developed in partnership with Nexcess.net, will provide tough, two-factor authentication capabilities to Magento store owners.
The Sentry extension protects against weak passwords and increases admin security by providing Magento integration with vetted two-factor authentication providers. The extension uses another device, like a smartphone or tablet, for a second authentication when logging into the Magento admin. Without access to an authenticated mobile device, unauthorized users can't log in, even if they know the password.
Sentry can be configured to use either Duo Security or Google Authenticator, two of the most popular two-factor authentication services. It is written to allow developers to easily add in additional authentication services.
According to Duo Security, user logins and passwords can be notoriously insecure. Two-factor authentication provides a practical and easy solution against phishing attacks, unsecured networks, spyware, and malicious viruses where passwords can be stolen.
"We are now happy to support Magento through Human Element," said Duo Security CTO Jon Oberheide. "With this integration, retail customers of all sizes using Magento can now have strong authentication to improve security and better comply with PCI DSS."
The new extension will be released the week of April 20, 2015 at the Magento Imagine Conference in Las Vegas. The extension release will be followed by a webinar on two-factor authentication on April 29, 2015 at 2 p.m. EDT. Register for the webinar to learn more about the extension, two-factor authentication, and why your store needs it. Panelists will include Greg Croasdill, CTO at Human Element; Chris Wells, President of Nexcess.net; and Patrick Garrity, Director of Solutions Engineering at Duo Security.
Using the Sentry extension makes it easy for Magento users to take advantage of two-factor authentication.
"Sentry was built with Magento store owners in mind," said Human Element Managing Partner Ben Lorenz. "Passwords are no longer enough to protect important logins. We're excited to provide two-factor authentication in an easy-to-use extension that works seamlessly with both Duo Security and Google Authenticator."
To download the Sentry extension, search for it on Magento Connect or download it from the Human Element website at http://www.human-element.com/sentry-extension
ABOUT HUMAN ELEMENT
With locations in Ann Arbor and Portland, Human Element works to develop web solutions for high transaction websites using the Magento platform. Human Element is one of the fastest growing custom application development agencies in Michigan, and is a Magento-certified Silver Solutions Partner. The Human Element team has explored the vast functionality of the Magento ecosystem, acquiring a broad range of experience developing custom extensions. Custom development work has included Magento integrations with enterprise resource planning (ERP) systems, customer relationship management (CRM) platforms, (ESP) email service providers, payment gateways, and other data systems. Visit http://www.human-element.com or call 734.545.8017 to learn more.
ABOUT NEXCESS
Nexcess is a Southfield, Michigan-based managed Magento hosting company founded in 2000, with data centers distributed throughout the United States, Europe, and Australia. Nexcess offers a variety of Magento hosting services ranging from entry-level packages to custom clustered/complex hosting configurations, with an emphasis on achieving maximum performance for high-profile stores. For more information, visit http://www.nexcess.net.