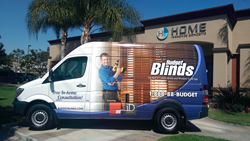 Momeni is a great partner and we look forward to aligning their fashion-conscious color combinations and globally inspired pieces with our trend-forward window fashions.
Orange, CA (PRWEB) April 14, 2015
Budget Blinds®, the largest window coverings franchise in North America with nearly 1,000 territories, is expanding its business reach and product offerings through a new partnership with Momeni Rugs. The new partnership will add depth to Budget Blinds' existing product line and will work to provide additional sales opportunities in the growing home décor industry. Currently, Budget Blinds' shop-at-home offerings include hard and soft window treatments, from shutters, shades, and blinds to custom drapery, panels, and fabric pillows.
"There is a growing number of our consumers that have homes with some type of hard flooring, which also means there is an additional need for area rugs," said Chad Hallock, CEO and co-founder of Budget Blinds. "We are consistently looking for ways to improve the in-home customer shopping experience and we can do that by adding products that fulfill a recurring customer need."
Momeni brings 40 years of rug expertise to the Budget Blinds brand with their Signature Collections and popular trends of updated traditional designs, colorful contemporary and tonal transitional looks.
"Rugs are a natural fit for the Budget Blinds brand and they expand our ability to really customize homes based on specific customer needs and interests," said Tracy Christman, Vice President of Vendor Alliance and Home Décor Industry Expert, "Momeni is a great partner and we look forward to aligning their fashion-conscious color combinations and globally inspired pieces with our trend-forward window fashions."
About Budget Blinds®
Budget Blinds was founded in 1992 and currently boasts nearly 1,000 franchise territories serving over 7,500 cities throughout the United States, Canada, and Mexico. The company offers customers a full line of quality window coverings including shutters, shades, blinds, draperies and window film. It also provides free in-home consultations as well as complete measuring and installation services. Budget Blinds has been recognized as a leader in the franchise industry by organizations such as Entrepreneur, AllBusiness, Inc. and Franchise Business Review. With a strong vendor alliance program and growing product portfolio, Budget Blinds is the clear franchising leader in the multi-billion dollar window coverings market. For more information on Budget Blinds, visit budgetblinds.com or connect with us on Facebook at facebook.com/budgetblinds. For franchise opportunities, please visit budget-blinds-franchise.com.
About Momeni
Momeni Inc., the leading source for area rugs and designer broadloom, is commemorating 40 years of business in 2015. The company was formed and founded by Haji Momeni in 1975 on the simple ideal of bringing beautiful products to people's homes with exceptional service and quality. 40 years later, they are still a family owned and operated business maintaining a reputation for unwavering quality, trendsetting design and outstanding customer service.
As the company grew, Momeni invested in the purchase and development of a 150,000 square foot modern warehouse in Atlanta. In 2007 Momeni relocated from their longtime home in New York City to a new, state of the art facility in Carlstadt, NJ.
Momeni offers over 70 collections of area rugs and a custom rug program based off their designer broadloom business.
Momeni's full line of area rugs can be seen on Momeni.com or connect via Facebook via facebook.com/MomeniRugs
###