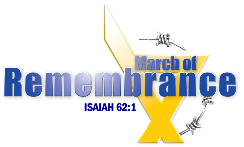 "Joining something like this makes it easier to do the right thing when it needs to be done." - Doyle Theimer, Lutheran Pastoral Chair
Houston, Brenham, Baytown, TX (PRWEB) April 15, 2015
This Saturday, April 18th, and Sunday, April 19th, March of Remembrance Houston will take part in the nationwide effort to commemorate the Holocaust by holding Days of Remembrance ceremonies at local churches in four different locations throughout the Houston metro area. The event coincides with the nation's annual commemoration of the Holocaust established by Congress and led by the United States Holocaust Memorial Museum in Washington, DC.
The ceremonies, which are open to audiences of all ages will feature speeches by Holocaust survivors, consuls, Nazi descendants, and World War II liberators. A march will follow each ceremony to honor those who perished during the Holocaust, remember the consequences of prejudice and indifference, educate the public regarding the signs of impending genocide, and engage hearts to take a stand so such atrocities never happen again.
Registration is free online, and specific details for each location can be found at http://www.marchofremembrancehouston.org. Kingwood, Baytown and Brenham events are scheduled for Saturday, and the central Houston event in the Rice Village area will take place on Sunday, April 19th, beginning at Rice Temple Baptist Church and ending at the Holocaust Museum Houston's Citywide Yom HaShoah Commemoration at Congregation Emanu El. The Kingwood march will end with a ceremonial ground breaking ceremony for the new Holocaust Garden of Remembrance at Kings Harbor Waterfront Village. Return transportation to starting points will be running at all locations.
The Holocaust was the state-sponsored, systematic persecution and annihilation of European Jewry by Nazi Germany and its collaborators between 1933 and 1945. Jews were the primary victims—six million were murdered; Roma and Sinti (Gypsies), people with mental and physical disabilities, and Poles were also targeted for destruction or decimation for racial, ethnic or national reasons. Millions more, including homosexuals, Jehovah's Witnesses, Soviet prisoners of war, and political dissidents also suffered grievous oppression and death under Nazi Germany.
Through its Days of Remembrance event, March of Remembrance Houston plans both to commemorate this tragic history and to reflect on the lessons it holds for our lives today. It also pays tribute to the rescuers who risked their lives to save others during the Holocaust, and to the American soldiers who liberated the concentration camps. Moreover, 2015 is the 70th anniversary of the end of WW2, also marking the liberation of the camps and the surrender of Germany.
"None of us want a world with another Holocaust, persecutions and injustices, but the reality is there are costs for a world governed by peace and justice," says Doyle Theimer, Lutheran Pastoral Chair. "Hearing first hand from survivors, liberators, and their children, not to mention participating in the walk, can benefit you in many ways— a deeper appreciation for the protections of life and liberty, historical awareness, insight into the times in which we live, new friendships beyond your normal crowd and engaging in important conversations that would not otherwise have come up. Joining something like this makes it easier to do the right thing when it needs to be done."
About the March of Remembrance
The March of Remembrance is a sister to the March of Life in Europe, which was started in 2007 by Pastor Jobst Bittner, TOS Ministry, of Tubingen Germany. Marches are held in over 50 US cities, and internationally, on Yom Hashoah (Holocaust Remembrance Day) to remember the atrocities of the Holocaust and stand in solidarity with the Jewish community in saying Never Again.
The March provides an opportunity to honor Holocaust survivors and let their stories be told; educate a generation that is many times unaware of the reality of the horrors of the Holocaust; remember not only those who were lost in the Holocaust, but those who fought for freedom; and engage the issues of anti-Semitism and social justice.
2015 March of Remembrance Dates and Locations:
Saturday, April 18th, 2015:
Brenham, Baytown and Kingwood (the March in Kingwood will conclude at the Holocaust Garden of Remembrance where there will be a dedication of the garden and a Celebration of Life event, with music, refreshments and fellowship.)
Sunday, April 19th, 2015:
Central Houston (beginning at Rice Temple Baptist Church and ending at Holocaust Museum Houston's Citywide Yom HaShoah commemoration at Congregation Emanu El.)
Register online and receive updates at http://www.MarchofRemembranceHouston.org