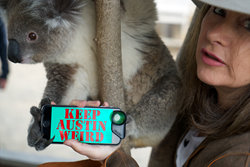 After a decade of making high end television commercials and corporate videos for blue chip companies, I wanted to give back by making video accessible for the little guy
(PRWEB) April 14, 2015
Launching today on KickStarter: Busivid's new "Create" app lets you grab any piece of video from your camera roll and automatically post produce it, by adding an animated version of your brand and professionally mixed music.
"Traditional video techniques require hours of post-production after you have finished shooting. Our app automates post-production, dramatically reducing the time and effort required to create simple business videos by up to 80%. It also means you don't have to be a tech-wizard to get video-active," explained Helen Mitchell, cofounder and CEO of Busivid.
The app allows businesses, not-for-profit organizations and bloggers to make professional-looking videos in only minutes with almost no training. Typical applications include video customer success stories, testimonials, newsletters, training, product videos and blogs.
Busivid's app also automates many distribution tasks including sharing to YouTube, Vimeo, Facebook, Twitter, LinkedIn and eBay.
Busivid currently have a $19 offer on KickStarter where they will take your existing logo and create a television-quality animated version of your brand, complete with an Intro and Outro, plus watermarks.
Once the brand is created, the app is free to use and it's possible to publish videos to your heart's content. Compare this to the $500-$1,200 per finished minute that many video production companies charge.
"After a decade of making high-end television commercials and corporate videos for companies like Microsoft, Unilever and Makita, I wanted to give back by making video accessible for the little guy," adds Mitchell.
Headquartered in Austin, Texas, with development out of Australia, the team aims to combine the best of the two pioneering outback cultures.
The Busivid Create app is available for IOS and Android. To have your logo professionally animated visit Busivid.com, or KickStarter.com where it's amazing value for the next 30 days.
Busivid Corporation
Busivid Corporation is a US company (C-corp) based in Austin, Texas. Our research and development team is based just north of Sydney, Australia. Pioneers of online video technology the company vision is to democratize the way video is made and shared.
Our young team of developers, designers and marketers has an average age of only 23. We employ staff in Australia and Austin, Texas. The concept for Busivid (Business + Video) began during the Mitchell's 15-year run producing corporate videos and television commercials for blue-chip clients.
Busivid is a new way of thinking about video production, storage and distribution. Our goal is to help the little guy stay competitive by changing the way simple business video is made.
Busivid is unique because we store video in our cloud as brand, voice, music, content and style. We reassemble these components in near real-time to provide new levels of flexibility, speed and customization on the fly.
Our modular approach allows users to quickly create and distribute branded video content via automated, post-production processes.
The founders, Steven and Helen Mitchell also founded Haltech Engine Management Systems (Haltech.com) in 1985. In 2009, Haltech won an Exporter of the Year Award for New South Wales, Australia.
For more images, videos or content please contact Helen Mitchell:
Best method by far…. Email: hmitchell(at)busivid(dot)com
Mobile: 0439 874 500 (in Australia) Office: 1-300 764 763
US Cell Phone: (512) 466-4628 International: +612 4369 3600