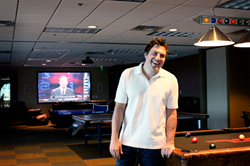 Practical applications like this that make daily tasks, like cooking dinner, easier make the Internet of Things so much more practical in daily life
Scottsdale, AZ (PRWEB) April 14, 2015
Miele & Cie has announced technology that will allow smart ovens to build on the platform the Internet of Things has created. Through a partnership with Microsoft using Microsoft Azure Internet of Things Services, Miele has been able to provide a smart oven that will help cooks perfectly cook meals created from online recipes, as reported in Internet Retailing. Jason Hope, entrepreneur from Arizona, points to this development as one of many indicators that the Internet of Things is poised to take over day-to-day life.
According to the April 13 report from Chloe Rigby on Internet Retailing, Miele and Microsoft have created a partnership that is aimed at identifying customer experiences that could be improved with the help of the Internet. The article, entitled "Internet of Things-powered ovens set to produce perfect cooking results, say Microsoft and Miele," indicates that the most recent development is a tablet or smartphone based program that allows a user to download a recipe from Miele's website, then using programming uploaded to a smart oven, automatically set the temperature and cooking time.
According to the article the system will also build in any special features the oven has, such as the option to add steam, to improve the cooking results. In other words, using this smart technology, Miele and Microsoft will allow chefs, and homemakers, to get the most out of their appliances.
"When many people think about the internet of Things in their homes," said Jason Hope, "they think of it as a luxury or something out of a science fiction movie. Practical applications like this that make daily tasks, like cooking dinner, easier make the Internet of Things so much more practical in daily life."
According to Sanjay Ravi, managing director of the discrete manufacturing industry at Microsoft, who was quoted in the piece, "This is one example of how the Internet of Things. . . is moving from enterprise experiences to delivering connected consumer experiences."
About Jason Hope
Jason Hope is an entrepreneur who uses his understanding of technology to help further research into ways technology can improve the outlook for people's future. He believes the Internet of Things will help make life more convenient in the future. Learn more about the research he supports at http://www.jasonhope.com.