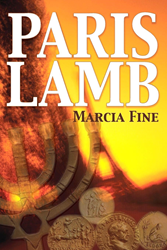 As always, Fine's rigorous research and fast-clip prose shine in this smart psychological caper. - Jessica Leigh Lebos, writer and blogger of 'Yo Yenta!'
(PRWEB) April 15, 2015
Set in the 1990s, "Paris Lamb" tells a remarkable story about biblical archaeology that is interwoven with the realities of anti-Semitism in the 1950s. A robust, satisfying read with a captivating love story, the tale journeys from Paris to the Ivy League, New York, Miami, and beyond.
The suspicious death of an esteemed professor thrusts biblical archaeologist Michael Saunders to the forefront of a rare antiquities auction. He is beckoned from a Paris vacation to authenticate the priceless artifacts known as God's Gold. Through the ages, the objects – a candelabrum, silver trumpets, and a sacrificial table from Solomon's Temple in Jerusalem – have passed through the hands of barbarians and Vandals, to find their way to the Vatican for safekeeping.
Released onto the open market, several world powers vie for these rare treasures. But are the relics real? Impulsively, Michael returns with his Paris lamb to New York. His stance that the objects are authentic sparks confrontations with other academics as well as a sinister cabal of Chinese investors. Secrets are to be revealed and lives changed forever in this compelling, beautifully written tale.
Watch the video book trailer at: https://youtu.be/gaYXGFk12y8
Author Marcia Fine's previous books are "The Blind Eye-- A Sephardic Journey," "Paper Children-- An Immigrant's Legacy," "Gossip.com," "Boomerang – 'When Life Comes Back to Bite You'", and "Stressed in Scottsdale, the only satirical series about Scottsdale."
"As always, Fine's rigorous research and fast-clip prose shine in this smart psychological caper. Ancient archaeology, espionage and family secrets with lush descriptions of Paris and its countryside made me want to linger." -- Jessica Leigh Lebos, writer and blogger of "Yo Yenta!"
About the Author: In 2000, baby boomer Marcia Fine began to pursue her dream of writing and break into a new career. Having written two satires about the upscale Scottsdale crowd, she took a different direction and completed two more books. The third, Paper Children, is a family saga based on her grandmother's letters from her family in Poland before and after World War II. Through translations and personal recollections, the award-winning author crafted a powerful immigrant's story of determination and passion. "The Blind Eye—A Sephardic Journey" has been chosen by ONEBOOKAZ to be read by the state of Arizona.
The compelling new book PARIS LAMB (ISBN: 978-0-98269-527-2) is now available for $16.95 and can be ordered through the publisher L'Image Press, LLC or at:
http://www.marciafine.com, Amazon.com or Barnesandnoble.com.