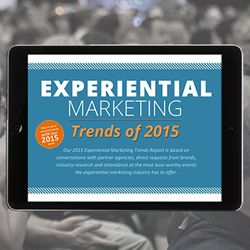 By revealing these trends, the report fosters creativity, collaboration and conversation in the experiential marketing industry
(PRWEB) April 15, 2015
Leading non-traditional marketing and media agency, Moderne Communications, released its 2015 annual report revealing key statistics, trends and technological advancements that are furthering the growing influence of the experiential marketing industry. This report presents data based on industry events and research, conversations with partner agencies and direct requests from brands. The report, titled, "Experiential Marketing Trends 2015," is available at http://www.modernecommunications.com/experiential-marketing-trends-2015.
Experiential Marketing brings brands and their consumers together through a tangible experience where consumers can touch, feel and interact. It has been gaining popularity as the fastest growing form of marketing and has been increasing in efficiency through the successful implementation of social media strategy on platforms like Twitter, Facebook, Pinterest, YouTube, Instagram and more. Brands and agencies are honing in on trends and strategies that improve the return on investment (ROI) from increasing brand affinity, driving sales and converting new customers.
Each year, Moderne Communications creates an experiential marketing trends report to review successes of the previous year that will be strengthened and built upon, to brainstorm and discuss advancements in the industry with colleagues and to benefit partners that seek to implement upcoming trends that would benefit their clients. Key insights from this report include:

The Experiential Marketing Industry has grown at a rate of 5% each year since 2011
Organizations globally spend over $572 Billion annually on events
Planning for an experiential campaign can begin 6 months to a year prior to start date
2015 is predicted to be a year of strategy refinement and effective implementation of new technologies
Consumers are 96% more likely to purchase products after interacting with them at an event
Free Samples and Giveaways are the greatest event participation motivators at a rate of 83%
74% of consumers rely on social networks to guide purchase decisions so it's important for brands to nurture user generated content
70% of the worlds largest companies planned to implement at least one gamified application by the end of 2014
Effective audience targeting can shorten the path to purchase by 50%
Full report can be found by clicking here
"By revealing these trends, the report fosters creativity, collaboration and conversation in the experiential marketing industry so that agencies may work together to bring forth the most impactful experiences for brands," said Joe Mastrocovi, President of Moderne Communications in Rockville Centre, NY. "Experiential Marketing has proven to be successful for many brands as they continue to focus priority and shift budgets to this growing industry. The buzz and excitement generated by just one activation can have resounding effects that last long after a campaign has ended. The report discusses experiential industry growth in general as well as trends that will have an impact on the industry in 2015."
The most successful experiential campaigns are born through effective collaboration of experts, audience targeting and implementation of relevant supportive technology and interactive components. Through analysis of the trends in the Experiential Marketing Trends 2015 report, brands and agencies can glean useful information that will inspire new ideas and guide activation strategy in the year to come.
About Moderne Communications:
Moderne (the 2nd "e" is silent) Communications is an alternative, non-traditional full-service marketing and media agency that splits its time between experiential marketing, guerrilla/place-based media and interactive technologies. Since 1986, Moderne Communications has been building the world of alternative, non-traditional marketing and have seen it grow exponentially. Their strengths lie in grassroots PR stunts, Mobile Tours, Promotions, Pop-Ups, Sampling, Street Teams and Street Buzz via Sidewalk Stencils, Wild Postings and Place-Based Poster Showings. What differentiates Moderne Communications is their 25 + years of experience and the maintaining of their own Non-Traditional Place-Based Media Network. Moderne's network is compromised of over 100,000 Independent Neighborhood Venues. Their client list includes Unilever, Alaska Airlines, Humana, Ford, Nissan, Kraft, DreamWorks and many more. Based in NY, and with an office on the West Coast, Moderne has people and resources across 85 markets nationwide with local expertise where consumers live, work, shop, play and pray. For more information, please visit ModerneCommunications.com.