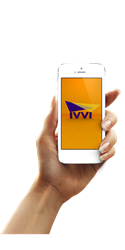 The ivvi app allows for an all-in-one experience that accomplishes what millennials have been frankensteining for years
New York, NY (PRWEB) April 15, 2015
The seismic surge in video consumption among Millennials has created a demand for video-only mobile platforms.
The newest version of such technology is ivvi app, with a proprietary algorithm that filters and sorts only the videos on the brink of virality. Mobile millennials don't have the patience to search and sort through thousands, if not millions of clips just for a few laughs.
As any digital native would wonder, 'why do it manually, when you can program it to do the work for you?'. Long gone are the days of manual protocol. These savvy mobilites believe that there's an app for just about everything.
"40% of mobile users watch an average of 33 mins of video daily on their mobile devices. This trend reflects a core shift in human behaviour, of which digital natives are the pioneers" says Founder & CEO of ivvi App. "Whether they're seeking entertainment, inspiration, or information, they want it yesterday." Video is clearly the popular choice for instant gratification.
The ivvi app allows for an all-in-one experience that accomplishes what millennials have been frankensteining for years; searching for the best videos on Youtube or Vimeo, sharing it with friends on Facebook, and saving the titles in Evernote for reference later.
Not only is ivvi a mobile platform for finding, saving and sharing viral videos but it's also a social community where users can curate their 'Watchlists' and generate a following.
The reality is that the behaviour, among millennials, already exists and ivvi app just happens to be the first of it's kind in the market. The demand for mobile video content will undoubtedly bring contenders sooner rather than later.
Download the app here. Access press kit here.
About ivvi App
Founded by 3D & graphic artist Taylor Klick, ivvi is a proprietary new mobile technology that scours, sorts and filters for viral videos. The app allows users to curate personalized watchlists, as well as share videos through other social networks including Facebook and Twitter. Available only on iPhone, ivvi bots search the world to bring the best content in three categories; Live, Laugh, and Learn to the US and Canada. To view a demo of the app please visit ivviapp.com.
For Press Inquiries Contact:
Erica Whyte
Communications Coordinator
erica(at)ivviapp(dot)com