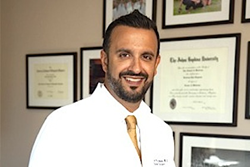 Los Angeles, CA (PRWEB) April 14, 2015
"One of the common causes of lower back pain is lumbar spinal stenosis," says spine surgeon K. Rad Payman, MD. "A minimally invasive procedure, 'microlaminectomy' may relieve the pain for patients with symptomatic, painful lumbar spinal stenosis, with less downtime required."
"Most of the minimally invasive procedures are performed on an outpatient basis and the majority of patients are home within hours of their procedure," says Dr. Payman. "Many patients are concerned about procedures that require days in the hospital and lengthy downtime so they are very happy when they learn that they can go home the same day."
"Stenosis occurs as a result of the growth of bone spurs and intervertebral discs bulging into the spinal canal, which take up the space normally occupied by the spinal cord or spinal nerves. Other symptoms of spinal stenosis include a  burning or aching type of pain in the buttocks that radiates to the legs, or weakness in the legs," says Dr. Payman.
"Spinal stenosis is a degenerative condition, usually age-related and often linked to arthritis. Spinal injuries may also cause stenosis to develop. 'Stenosis' is the narrowing of the spinal canal and / or narrowing of the nerve root canals, which conduct the individual spinal nerves. The lamina is a bony portion of the spine, composing part of the spinal canal," says Dr. Payman.
Treatment for spinal stenosis may include conservative approaches such as physical therapy and medication. If these treatments don't bring relief, surgery is the next option.
A laminectomy is the surgical removal of the lamina, performed to relieve nerve or spinal cord compression caused by the lamina. Microlaminectomy is a type of minimally invasive spine surgery. Microlaminectomies are done with smaller incisions than "standard" procedures and since there is less cutting of the back muscles and tissues a patient's recovery time can be significantly reduced. Microlaminectomies may provide improved long-term outcomes because there is less muscle and tissue damage.
"A modified version of a laminectomy will remove a smaller amount of bone than is commonly removed in the standard procedures. This approach will relieve pressure on the spinal cord and lumbar nerves but maintain the maximum possible spine stability and strength," says Dr. Payman 
For more information visit http://www.thespinemd.com and call the office of K. Rad Payman, MD at Advanced Spine Institute, 818-501-2001.