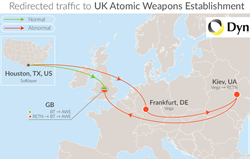 Manchester, NH (PRWEB) April 14, 2015
The Internet is increasingly complex and the most basic functions provided by Internet and cloud service providers routinely experience outages, instabilities and attacks. Routing problems affect enterprises worldwide on a daily basis and while the majority of these are simple errors, they can be damaging to a company's reputation. To protect their Internet-connected assets, enterprises need to arm themselves with the right tools to detect and remediate these problems. That's why today, Dyn, the worldwide leader in Internet Performance, announced the launch of Dyn Internet Alerts, an easy-to-implement API-based cloud service that lets businesses monitor and measure the health of their Internet resources.
As businesses commit assets to the cloud, they need assurance that their investments will succeed. Having visibility and insight into potential issues means that they can keep their Internet and cloud service providers honest. This is necessary because any company that uses the Internet to deliver services to customers takes a necessary risk when using third-party providers - even YouTube has been a victim of route hijacking in Pakistan. Despite the media hype, malicious attacks are only a small percentage of hijacks. The majority of these issues are simple errors, yet the result for brands pouring investments into their online presence is just as devastating: no control over a quality experience for customers, prospects, and employees.
Powered by Dyn Internet Intelligence' s global network, which monitors billions of routing, Internet availability and performance data points per day, Dyn Internet Alerts let companies pinpoint whenever the quality or health of the end-user experience is compromised. Additionally, when combined with Dyn's Managed DNS and Traffic Management solutions, Dyn Internet Alerts can help to create better Internet connectivity and business continuity.
"Companies right now are blind to the changes that are being made to the infrastructure of the Internet on a daily basis," said Scott Hilton, EVP, Products at Dyn. "From uncovering human errors that affect a brand's online presence to alerting companies of stolen, hijacked and misrouted IP address spaces, Dyn Internet Alerts provide visibility into Internet connectivity and performance problems, so that companies can minimize the impact as soon as possible."
Dyn Internet Alerts provide highly accurate, real-time monitoring using a comprehensive sensor network, which Dyn built over the last 15 years, that collects data from hundreds of cloud and service providers across all major markets around the world. Dyn Internet Alerts integrates easily into existing Network Management Systems and is fully supported by Dyn's 24/7/365 support team so businesses don't have to take unnecessary risks.
"In today's world of mobile and social consumers, ensuring the fidelity and timeliness of content delivered is a critical part of an organization's systems of engagement," said Richard Villars, Vice President, Datacenter & Cloud at IDC. "Solutions like the Dyn Internet Alerts make it possible for IT teams to monitor important routes to and from cloud and datacenter locations, ensuring delivery of resources with predictability and high performance."
To begin taking control of Internet Performance with Dyn Internet Alerts, visit http://dyn.com/dyn-internet-alerts/.
About Dyn
Dyn is a cloud-based Internet Performance company. Dyn helps companies monitor, control, and optimize online infrastructure for an exceptional end-user experience. Through a world-class network and unrivaled, objective intelligence into Internet conditions, Dyn ensures traffic gets delivered faster, safer, and more reliably than ever.
Dyn is the leading Internet Performance provider to the most visited web properties in the world, as measured by the Alexa 500. Dyn delivers more brand loyalty, customer satisfaction, and increased sales from startups to Global 2000 companies and businesses in between. Dyn is Internet Performance. Delivered. Visit dyn.com for more info on how Dyn delivers.