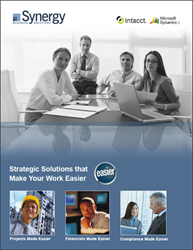 We can meet the increased demand for cloud-based financial management and project accounting solutions in Montana and the region.
Portland, Oregon (PRWEB) April 15, 2015
Synergy Business Solutions, an Intacct and Microsoft partner, announced today it has expanded its Helena, Montana presence to accommodate the heightened interest in cloud financial management software in the state and region. Opened in the Fall of 2013, Synergy's Montana office recently added an Intacct cloud financials specialist to an already-established Microsoft Dynamics SL Practice serving clients in the area.
"We now have expertise in two solutions to serve this region," said John Foster, Vice President of Business Development at Synergy Business Solutions. "We can meet the increased demand for cloud-based financial management and project accounting solutions in Montana, the Idaho Panhandle, and Eastern Washington."
In March, Synergy was a sponsor of the Montana Society of CPAs' Industry and Financial Professionals Conference in Helena, where Synergy representatives both showcased and spoke about the advantages of cloud-based accounting solutions in general and Intacct in particular. One of Synergy's Intacct clients is the Washington State Society of CPAs.
Intacct's cloud-based financial management and ERP system owes much of its popularity, as evidenced by its 8,500 customers, to five distinct benefits: remarkable automation, efficiency, business insight, quarterly innovative upgrades, and an average of a 250-percent return on investment (ROI) with a six-month pay-back period.
Synergy will also attend the Montana Society of CPA's Annual Conference on June 18-19, 2015.
About Synergy Business Solutions
An Intacct Certified and Microsoft Gold Enterprise Partner, Synergy Business Solutions provides comprehensive software solutions primarily to professional services, software/IT, and government- contracting organizations. Through implementing and supporting cloud-based Intacct software and Microsoft Dynamics SL (either in the cloud or on-premise), Synergy helps organizations that have outgrown their systems and procedures or identified cumbersome processes, to operate more efficiently while effectively managing projects, resources, time, financials, and growth. Synergy provides needs assessments for organizations searching for a new solution that lead to a new-system design and a ROI Analysis to determine the hidden costs companies will leave behind and the hidden savings they will gain. Based in Portland, Oregon, Synergy has another office in Seattle, Washington, and consulting/support offices in California, Idaho, Montana, and Ohio. For more information, visit http://www.synergybusiness.com, call 800-481-8590, or watch Top 4 Things You Need to Select the Right Accounting System.