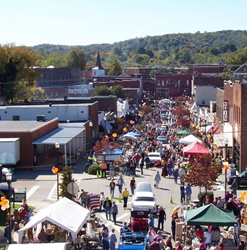 Clinton, TN (PRWEB) April 14, 2015
The 11th Annual Clinch River Spring Antique Fair will be held on Saturday May 2nd, 2015, from 9 am to 5 pm, in Historic Downtown Clinton, Tennessee.
The Spring Antique Fair will kick-off with a party on Friday evening, May 1st from 6:00 to 9:00 pm in Hoskins/Lane Park on Market Street with live musical entertainment. Back, by popular demand are The Real McCoys. This trio is comprised of brothers Blake and Aaron McCoy who play banjo and guitar and bass player Nick Patterson. These young men grew up in Lake City, playing in church, and have been a favorite at The Museum of Appalachia's Fall Homecoming for the past five years. They released their first album in 2010 and are currently working on their second one, hoping to include several songs they have written. Their true passion for bluegrass music drives them to make bluegrass appeal to everyone. Their "spin" on the classic, "Foggy Mountain Breakdown" has made them a local favorite.
While you are enjoying the music you can also enjoy food from local food vendors that will be offering BBQ, baked goods, hotdogs and burgers and new this year, gyros. In addition to food and music there will also be plenty of late night shopping in the antique district with shops remaining open till 9 pm. All events are held rain or shine and there is plenty of free parking.
Saturday, May 2nd, is the main event with Market and Cullom Streets closed to traffic as antique dealers' line the streets for the 11th Annual Clinch River Spring Antique Fair. Over 100 antique dealers, from Tennessee and surrounding states, will line Market and adjoining side streets to present a fantastic antique show offering a wide range of antiques and collectibles to suit every taste. Plus, don't forget to also visit the 20+ antique shops in town who will be having their annual spring sales. The antique shops will also be open on Sunday from 1 to 5 pm.
The day's events are scheduled from 9:00 a.m. to 5:00 p.m. Main Street will have a display of antique automobiles by the Clinton Region of the AACA. Local food vendors will again be set up in Hoskins/Lane Park to help keep up your energy for a full day of exploring and shopping.
The Clinch River Spring Antique Fair has grown in popularity every year for both antiques dealers and shoppers alike. These antique shows consistently bring thousands of visitors to Clinton's Historic Downtown District. Rain or shine, everyone always has a great time and most go home with wonderful treasures.
Clinton is just a short 20 minute drive northwest of Downtown Knoxville, 6 miles off of Interstate 75 at exit 122 or a quick 10 minute drive northeast of Oak Ridge along Hwy 61. The fair is sponsored by the Antique Merchants Guild of Clinton and Anderson County Tourism Council in conjunction with the City of Clinton and Methodist Medical Center of Oak Ridge. For additional information please call (865) 457-5250, (865) 463-8699 or (865) 457-4542.