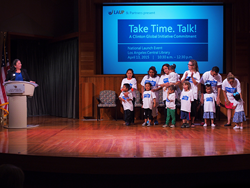 Los Angles, Calif. (PRWEB) April 13, 2015
This morning, the Mark Taper Auditorium at the Los Angeles Central Library was filled with over 100 patrons, comprising local parents, early childhood education stakeholders and policymakers, who gathered together to witness and engage in the launch of LAUP's Clinton Global Initiative America Commitment to Action: a vocabulary-building campaign called Take Time. Talk! Giving Children the Words They Need.
"Take Time. Talk!" aims to close the 30-million word gap that exists between children of the low- and high-income families, by teaching parents and caregivers how to engage their children in positive, open-ended conversations, whether at the grocery store, enjoying a meal, bath time—or a variety of settings.
As referenced by LAUP's CEO Celia C. Ayala in her opening remarks, LAUP is just one of many organizations across the country who has launched a campaign in order to combat this widely-acknowledged "word gap." With New York, rolling out its "Talk to Your Baby" public awareness campaign last week, Too Small to Fail's recent unveiling of their "Talking is Teaching" campaign, the launch of LAUP's tool widens this national conversation, establishing roots in Los Angeles.
"More development is happening in these first five years than any other point in life – yet children who start at a disadvantage stay at a disadvantage for the rest of their lives," said Dr. Anne Fernald of Stanford University, one of four experts who joined the featured panel discussion. Camille Maben of First 5 California also lent a voice alongside Alex Johnson of the Children's Defense Fund-California and Dr. Ayala.
"Reading to a child is very different than reading with a child," Fernald said. "Engaging them in the reading process gives them a chance to master prediction. She said that LAUP's "Take Time. Talk!" tool emphasizes this skill. Families and their children from a locally funded LAUP site, the Keck Early Learning Center, were able to put the tool into practice through a reading time that was facilitated by one of LAUP's coaches while the panel was taking place.
The tool comes in two forms: a set of 5" by 9" tent cards, used to help educators train other teachers and parents, and a pocket-sized accordion that can be taken on the go. Using a variety of conversation prompts and colorful imagery, the tool encourages adults to talk more in-depth with their infants, toddlers and preschool-age children.
The goal is to reach 1 million children and families with these resources.
The "Take Time. Talk!" tool is part of the rollout of LAUP's Clinton Global Initiative (CGI) America commitment, made in June 2014. LAUP's CGI America partners include First Book, Lakeshore, Unite for Literacy, PHFE WIC, California State Library, California Library Association, Families in Schools, and KLCS. Additionally, the commitment was shepherded by nationally preeminent word gap researchers, Dr. Dana Suskind of the University of Chicago and Dr. Fernald.
For a limited time, "Take Time. Talk!" is now available as a PDF in both English and Spanish.
Click here to download the English version. Click here to download the Spanish version.
Printed materials are also available as a tool in the classroom as well as individual brochures for families to take home. Contact us at info(at)laup(dot)net for more information.
About LAUP
LAUP is a nonprofit that funds, rates and raises the level of quality preschool programs throughout Los Angeles County by advancing teacher training and creating safe and nurturing early care and education environments. Since its inception 10 years ago, LAUP has provided quality preschool to more than 100,000 children, putting them on the road to success for kindergarten and beyond.
# # #