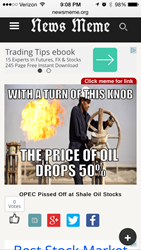 Meme the internet & share it with your friends.
Peoria Heights (PRWEB) April 14, 2015
The people at News Meme said that valuations of tech companies put profits far off in the future. Many publicly traded tech companies routinely post losses quarter after quarter, but not Callitics, LLC. Callitics is the boutique software development firm behind News Meme and is focused on small, fun and useful allocations of code, actually ran a profit in March of 2015, albeit a small one.
"Our goal had always been to be revenue neutral by spring of 2015, and we nailed it," says founder and CEO Tom Howard. "News Meme was the learning tool we needed to expand our offerings and understand monetized growth in the tech industry.
Callitics has expanded its offerings by doing a belt-and-suspenders approach. They started out with a mobile app originally called by the name of the company, but altered its name to be more direct. "Power to People is what the app has always been about, " says co-founder Henry Getz. Then to fund the development of an app that may take time to launch. "Calling your leaders is not our national pass time, but we got an idea to speed it up. If money is speech," explains Getz.
To move Callitics development into higher gear, they launched News Meme. The users can create memes based upon internet content to put their own spin on it. "We wanna put on a copyright clinic," says Howard. The News Meme website implicates numerous copyright questions. "They all link back to a unique URL that people put out to get as many people to as they can. We think that is the 21st century's 'first sale' doctrine. No copies, just one original source. But that's before we talk about the transformative effect."
While boring copyright jargon may not garner as many clicks as Buzz Feed, memes are very popular on the interwebs. Callitics has seen geometric growth of its News Meme platform. "It's a transformative medium that gives the original source what it wants, backlinks and more traffic," says Howard.
Callitics is launching its updated mobile app for politics soon, they had to wait to get certain coding aspects correct. Callitics, LLC is a software firm committed to developing the code people love to play with. They can be reached at howard@callitics.org