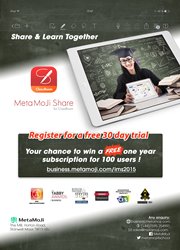 Innovate My School is just the sort of educational crossroads where we feel we can best place our message about MetaMoJi's growing family of mobile educational tools.
Palo Alto, CA (PRWEB) April 22, 2015
MetaMoJi, a leading developer of mobile productivity applications, announced today that it is launching a global marketing campaign for its Education Solutions applications through advertising placements in Innovate My School magazine.
The first print ad for the MetaMoJi campaign will appear in the April 21 issue of Innovate My School Magazine and others are scheduled for the May and June issues. All of the MetaMoJi ads will also be featured on the Innovate My School website.
Said Ben Walshaw, MetaMoJi's Director of Customer Communications: "Innovate My School is an extraordinary magazine and website that is free to all schools. The content comes from all over the world and includes innovative tech-friendly educational ideas that challenge students to use the very latest tools to teach fundamentals in the K-12 environment. It is just the sort of educational crossroads where we feel we can best place our message about MetaMoJi's growing family of mobile educational tools."
MetaMoJi Share for Classroom
MetaMoJi Share for Classroom allows teachers to customize visually engaging lesson plans and collaborate with their students in real-time interaction as they work through the lesson on their tablet computers and smartphones. Students can work individually or collaborate in groups as defined by their teacher.
Share for Classroom provides all of the award-winning features of the MetaMoJi Productivity Environment, including note-taking with multiple styles of pen and papers, tools to work with images and web content, voice recording, handwriting recognition and the ability to edit any content at any time. This allows students to quickly correct their work, change colors of existing writing or drawings, reposition and scale anything on a page and to add effects such as shadows and borders.
Said Walshaw: "Using MetaMoJi Share for Classroom, teachers can control visual collaboration on a page-by-page basis, allowing creativity and imagination to be applied in the correct places within lessons."
Tablet Virtual Whiteboard
MetaMoJi applications are compatible with displays via HDMI or broadcast technologies (such as Air Play) allowing teachers to display their content from their tablet onto a larger TV or projector screen. This can be used to turn any platform of tablet computer into a large interactive 'virtual whiteboard.' This dynamic collaboration space can be opened to students as required. Teacher's can look over the shoulder and interact with several students at one time. All students' tablets can also be forced to reflect the teachers chosen content and to display any annotations that they make.
All MetaMoJi mobile applications build upon the existing MetaMoJi Cloud infrastructure, allowing the optional cloud storage of documents, shared repositories for teams to place documents, and for multiple students to work on documents at the same time from any location.
Find out more about MetaMoJi's award winning Education Solutions:
Web Site: http://business.metamoji.com/education-solutions/
About MetaMoJi Note: http://noteanytime.com
About MetaMoJi Share: http://shareanytime.com/
To evaluate MetaMoJi SHARE for Business or MetaMoJi NOTE for Business then please visit http://business.metamoji.com/evaluation-options/ to request assistance.
To discuss partnering with MetaMoJi please email ben(at)metamoji(dot)com
About MetaMoJi
MetaMoJi creates products to break barriers between devices and users with revolutionary applications on smartphones and tablet devices. MetaMoJi's unique innovations give users the comfort of an analog experience with the convenience of digital technology. MetaMoJi's mission is to contribute to the advancement of human beings with unique applications to collect knowledge, write documents, organize ideas and share them with others. Please visit the corporate site for more information.