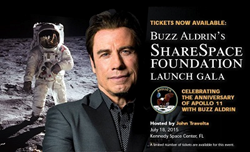 COLUMBUS, GEORGIA (PRWEB) April 14, 2015
Journalist and author Ben Parr announced today that his new book Captivology: The Science of Capturing People's Attention will be sent to space this Saturday, April 18. Operation #SpaceBook was born out of Parr's lifelong fascination with space exploration and is designed to support education in science, technology, engineering and math (STEM), as well as the arts.
Developed by members of the Columbus Space Program, a Georgia-based high-altitude balloon science platform DREAMS (Doing Research at Extreme Altitudes for Motivated Students) will launch its 24th mission towards the stars on Saturday, April 18th with a handful of student-led experiments. Along for the ride will be Parr's book "Captivology".
This space-bound copy of the book will be raffled, along with chances to meet Buzz Aldrin and John Travolta, among other prizes to support STEM education, at http://www.Omaze.com. The DREAMS program is designed to help students launch student-led experiments into space (or as close as one can get without multi-million dollar rockets). The 24th mission will feature student-designed experiments including a radiation shielding Kicksat Sprite communications effort, and a Fluxgate Magnetometer. For further details about the experiments, read more here.
DREAMS and their high-altitude balloon will go into "near space" from the surface. Somewhere outside Columbus, Georgia, Ben Parr will be in a rental car, using GPS to track down and retrieve a payload that will descend from space with science-focused students and teachers.
Images of the book will be captured with a high-res camera taking shots every 10 seconds until it reaches its destination. After the #SpaceBook is retrieved, the author and Omaze.com will raffle the space copy of Captivology to support Buzz Aldrin's ShareSpace Foundation, a non-profit that addresses science literacy by igniting children's passion for science, technology, engineering, arts and math through delivering hands-on activities, inspirational messages, educational visits and Innovation Kits.
Part of a series of prizes, the Grand Prize package will feature:

The space-irradiated, signed, first-edition copy of Captivology that falls back to Earth on April 18th;
An exclusive ticket to the first-ever ShareSpace Foundation Launch Gala dinner and VIP reception
on July 18, 2015 at the Kennedy Space Center (Florida) with famed astronaut Buzz Aldrin and actor John Travolta;

An Apollo 11 commemoration, a tour of the Kennedy Space Center museum, and
Dinner for two with author Ben Parr in New York, San Francisco or Chicago.
An exclusive raffle/giveaway will be hosted at http://www.Omaze.com (May 2015 date to be announced); entries will be collected and winners selected through a computer generated random selection process. Follow http://www.benparr.com for details.
100% of the proceeds from the raffle will go toward supporting the ShareSpace Foundation and its goal of promoting science education.
# # #
About Ben Parr
Author of CAPTIVOLOGY: The Science of Capturing People's Attention (HarperOne, March 3), Ben Parr is cofounder of DominateFund, an early-stage venture fund, a columnist for Inc. Magazine, former Co-Editor and Editor-at-Large of Mashable and a former CNET columnist and commentator. Parr was named by Forbes as one of its current "30 Under 30" and by StatSocial for its Top-100 Social Media Power Influencers, 2015, and Say Media identified him as one of the world's top 10 tech journalists. He appears regularly on CNBC, CNN and "Entertainment Tonight". The acclaimed journalist has written 2,400+ articles on science, technology, media and business. With a degree from Northwestern University in Science in Human Culture, Parr today works with startups and Fortune 500 companies showing them how to apply the science of attention. More at: http://www.benparr.com