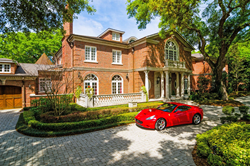 This home has wonderful craftsmanship, every possible amenity, abundant entertainment space, and is adjacent to the Tampa Yacht and Country Club – you can step out your front door and onto your yacht or into the equestrian center.
TAMPA, Fla. (PRWEB) April 14, 2015
From teeth to Tinseltown, Steve Matzkin recognized a solution in one industry can sometimes be equally successful in another industry. Utilizing business and finance skills he perfected as founder and CEO of Sarasota-based Dental Care Alliance, which outsources administrative functions for dental practices, he launched a second successful career as a Hollywood producer, managing the business of film production, so independent filmmakers can focus on the creative aspect. So, when he decided to sell his magnificent Tampa home, he chose auction – already a proven method for selling luxury items such as artwork and automobiles and proving to be just as successful for selling luxury homes. His stunning six-bedroom South Tampa estate in the sought-after historic neighborhood near Bayshore Boulevard will be sold at absolute auction with no minimum bid and no reserve on Tuesday, April 28th, at 2:00 p.m. EDT by Grand Estates Auction Company.
"The experts at Grand Estates Auction Company created a method for selling homes using the same principles that have proven to be successful for other luxury items, and they have the top closing rate in the luxury real estate auction industry," stated homeowner Steve Matzkin. "Through their marketing campaigns and auction format, they create excitement and immediacy in the luxury real estate sales process and are able to ensure the sale of our home on a specific day."
Perfect for entertaining, the home is situated on a private 1.3-acre walled lot adjacent to the Tampa Yacht and Country Club, offering equestrian center, tennis, yacht mooring, and exquisite dining. The luxury family residence includes six bedrooms, six full bathrooms including two master bathrooms, two half-bathrooms, gourmet kitchen, formal and informal dining and living rooms, two private offices including a two-story gentleman's library, game room, home theater, a temperature-controlled wine cellar, and a three-car garage. Architectural design elements include an elegant entrance hall with sweeping staircases, soaring coffered ceilings, four fireplaces, reclaimed antique chestnut wood flooring, exquisite brickwork and custom built-ins throughout the home. The beautiful grounds adorned by century-old oak trees feature indoor/outdoor living spaces, a resort-style pool with whirlpool, and a pool/guest house.
"Interested buyers should come ready to bid on this amazing buying opportunity," stated Grand Estates Auction Company Director of Sales Development Stacy K. Reich. "This home has wonderful craftsmanship, every possible amenity, abundant entertainment space, and is adjacent to the Tampa Yacht and Country Club – you can step out your front door and onto your yacht or into the equestrian center. This magnificent Tampa home will be going to one lucky bidder on April 28th."
Once the world's Cigar Capital, Tampa Bay is a vibrant region that takes pride in its rich cultural heritage. Now a world-class metropolitan area, Tampa boasts a thriving financial services sector, world-class shopping, numerous museums, a performing arts center, theme parks, as well as three major league sports teams – NFL's Tampa Bay Buccaneers, MLB's Tampa Bay Rays, and NHL's Tampa Bay Lightning. Situated on the beautiful Tampa Bay, boating, water sports, fishing, sugar-sand beaches, and strolls along Bayshore Boulevard provide a relaxing lifestyle in a dynamic city.
Grand Estates Auction Company has an unsurpassed closing rate in the luxury residential real estate auction industry and specializes in creating comprehensive global marketing campaigns for luxury properties. There are no contingencies, no lengthy negotiations, and timelines for closing are already established. To help buyers make an informed purchase, a comprehensive due-diligence packet is available, and ample time is allotted for tours and inspections prior to the auction. Similar to rare artwork that does not have comparable pieces to set the value, exceptional properties such as this are well suited for auction, where bidders set the market value.
The Tampa auction will start promptly at 2:00 p.m. on Tuesday, April 28th. Provisions for remote bidding can be arranged. The property will be available for prospective bidders to preview beginning Friday, April 24th at 11:00 a.m., with daily preview times scheduled through the date of the auction. Buyers may contact Grand Estates Auction Company's auction information office to schedule an appointment during one of the preview times at 800-552-8120. A $150,000.00 certified check or personal check along with a bank letter of guarantee will be required to register to bid. Real estate agents and brokers are fully protected and encouraged to participate.
Grand Estates Auction Company is the leader in the niche market of auctioning luxury real estate, specializing in properties valued at $2 million and above throughout North America, the Caribbean, and select international destinations. Based in Charlotte, N.C., the company was established in 1999 and was the first of its kind. Recent auctions include the record-breaking sale of an $11 million dollar home in Bay Harbor, Mich., and the upcoming absolute auction of a Lake Geneva, Wis. lakefront estate scheduled for May 19th. For more information and auction details visit http://www.GrandEstatesAuction.com.