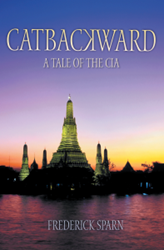 Evokes the languid heat of Thailand and the electrifying work of the agents of the CIA.
NEW MILFORD, Conn. (PRWEB) April 14, 2015
American Corby Miller is a CIA agent posted in Bangkok, Thailand, one of the agency's more volatile spots, and it's not just the weather that's uncomfortably hot. Miller spends his time liaising with the Thai government and getting to the bottom of a potential turncoat within his own agency, a double-crossing spy reporting to the Russians, notes this new thriller.
Miller's personal life is just as thrilling as he gets dangerously close to the very beautiful and very married Leigh Chapin, the wife of a loyal operative and positioned carefully to provide intel to the agency herself. As the potential for a coup grows ever closer, Miller's walk along the razor's edge of international politics becomes more and more treacherous, with agents dropping like flies and the people closest to him becoming ever more untrustworthy. Can Miller get the agency the information it needs, and will he make it out alive? Will Bangkok get the best of this wily agent?
"Catbackward" is a gripping thriller with twists and turns that will leave readers wanting more. Corby Miller is an engaging hero, charming and enigmatic to the end. Author Frederick Sparn's novel evokes the languid heat of Thailand and the electrifying work of the agents of the CIA.
----------
For additional information, please visit http://www.catbackwardcia.net.
Catbackward
Frederick Sparn
Dog Ear Publishing
ISBN: 978-1-4575-3316-7
300 pages
$16.99 US
Available at Ingram, Amazon.com, Barnes & Noble and fine bookstores everywhere.
About Dog Ear Publishing, LLC
Dog Ear Publishing offers completely customized self-publishing services for independent authors. We provide cost-effective, fast, and highly profitable services to publish and distribute independently published books. Our book publishing and distribution services reach worldwide. Dog Ear authors retain all rights and complete creative control throughout the entire self-publishing process. Self-publishing services are available globally at dogearpublishing.net and from our offices in Indianapolis.
Dog Ear Publishing – self-publishing that actually makes sense.