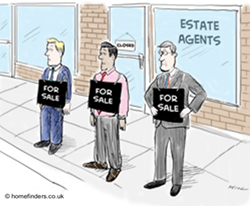 The service we provide will maximise landlords' yield on their investments
(PRWEB UK) 23 April 2015
Home buyers and tenants started to desert high street based estate and letting agents many years ago, instead starting their search for a home on the Internet at one of the property 'portals' like Rightmove and Zoopla. Sellers and landlords are now increasingly changing to cheaper online agencies and, whilst there is a good choice of online agencies selling property, Homefinders.co.uk, a traditional estate agency based in Gloucestershire, believes there is room for a top quality online letting agency; so the company have launched http://www.homefinders.rentals.
MD Tony Luck says "The online estate agencies also offer a service to landlords but, like most estate agents, the letting side of the business seems to be a 'poor relation', an add-on which is there primarily to support the agency when sales are quiet. There are a few specialist online letting agents but none stand out. For example, whilst all will find a tenant none appear to help the landlord when the tenancy ends – how does the landlord give the tenant notice? This has to be done in the correct way and Homefinders will guide the landlord through the process."
Homefinders.rentals will also provide each landlord with an online calendar to make the task of arranging viewings easier. Most landlords work during the day and reaching them at short notice to arrange a viewing can be difficult. The provision of an online calendar, which can easily be amended at any time by the landlord, enables appointments to be made without the need to talk to the landlord who will be advised of the booking by email and text.
The agency uses the standard Assured Shorthold Tenancy agreements (AST) which are usually written for a term of 6 months. At the end of that time an AST automatically morfs into a Periodic Tenancy which runs indefinitely but which can be ended by the landlord giving the tenant two months' notice to quit, and the tenant can give one month's notice to terminate the contract. Therefore there is no need to renew the AST, and no need for the landlord or tenant to pay renewal fees. Tony Luck: "Traditional agencies make considerable sums by charging both parties to renew a contract that in effect does not need to be renewed. The service we provide will maximise landlords' yield on their investments while at the same time reducing the tenants' costs."