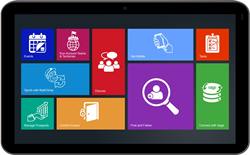 More than 95% of new innovation around apps for business is happening in the cloud or on mobile
Buford, GA (PRWEB) April 14, 2015
Suntico is introducing a new web service application programming interface (API) to enable software developers to create mobile and web apps that connect to data in Sage 50 accounting software.
In this Google Hangout on Air, attendees will learn about the initial capabilities of the new service from Suntico and what is planned for the future.
"Although cloud accounting software is becoming more popular in very small businesses, more than 90% of companies with more than 10 employees continue to use desktop "on premises" software like Sage 50." says Hugh Johnson, SVP Business Development at Suntico. "More than 90% of new innovation around apps for business though is happening in the cloud or on mobile."
Suntico's new service will enable providers of new cloud or mobile business apps to connect these apps to Sage 50 accounting software.
"The most valuable activities in a company either start or end in the accounting software, so enabling online connectivity to systems like Sage 50 is really valuable." continues Hugh Johnson.
The service will be free of charge for qualifying developers.
About Suntico:
Suntico is an online platform to address the multi-trillion dollar productivity gap in small to medium sized businesses employing 10 to 100 people.
Suntico includes a Facebook-like online account management solution and is currently available for Sage 50 Accounting US (formerly Peachtree), Sage 50 Accounting Canada (formerly Simply Accounting), Sage 50 Accounts in the UK and Ireland, and Sage One (Ireland and UK).