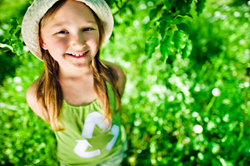 Going Green is more than just a saying in Gatlinburg. It's something we do every day and celebrate in a big way.
Gatlinburg, TN (PRWEB) April 14, 2015
Each spring when the mountains turn green, Gatlinburg celebrates "Going Green" in a big way during the annual Earth Week Celebration held Monday, April 20 to Saturday, April 25. Gatlinburg dedicates an entire week to celebrate caring for the earth with events designed to share easy green practices through games, crafts, and music, opportunities to get outside and maybe even get your hands dirty!
The City of Gatlinburg is a leader in green practices among municipalities in Tennessee. Get firsthand knowledge of how you can contribute to the greening of your business at the Gatlinburg Goes Green Breakfast Seminar on Monday, April 20. Enjoy breakfast and learn practical tips to help your business go green in 2015. The first LEED-certified hotel built from the ground up in Tennessee, Hilton Garden Inn is a presenting sponsor of Earth Week.
Get a hands-on experience Tuesday, April 21 at the Spur Clean Up. Gatlinburg will partner with Keep Sevier Beautiful to pick up trash along the Spur, a stretch of Great Smoky Mountains National Park between Gatlinburg and Pigeon Forge. To participate, bring a pair of gloves and meet at Gatlinburg's Spur Welcome Center at 9:00 a.m. Businesses and organizations are encouraged to assemble teams in a competition for who can collect the most litter! Ben & Jerry's Ice Cream will be on site with free ice cream.
Get a head start on your spring-cleaning with Spring Cleaning Super Recycling Wednesday, April 22. Participants will be able to drop off recyclables from 11:00 a.m. to 6:00 p.m. at the Gatlinburg Recycling Collection Center, located at 1855 East Parkway. Goodwill staff will be accepting donations, and the Gatlinburg Police Department will be providing safe medicine disposal on site. No hazardous material will be accepted.
The climax of the week is the 8th Annual Earth Day Festival, Thursday, April 23 from 3:00 to 7:00 p.m. at Mynatt Park. Everyone is welcome to attend for free activities and games, craft stations, and live music from Tuatha Dea and Boogertown Gap. Gatlinburg area green businesses and organizations will be on-site with activities and information. Earth Week t-shirts featuring the artwork of a local student will be available for purchase at the festival. It's a great way to spend a green spring afternoon!
Runners and walkers are invited to celebrate Earth Week with the Earth Day 5K Run/Walk in beautiful downtown Gatlinburg. The night race is scheduled for Friday, April 24 at 10:00 p.m. Athletes of all ages are welcome to participate in this USA Track and Field sanctioned event. Early registration is encouraged to guarantee your shirt size! Race day registration begins at 8:00 p.m. at Nantahala Outdoor Center. Register online at http://www.Gatlinburg.com/events.
Great Smoky Mountains National Park will celebrate National Junior Ranger Day on Saturday, April 25 with special activities at all three of the Park's visitor centers. Children and their families can join in a variety of free, hands-on activities. A few of the natural and cultural opportunities that will be available include Ranger-guided walks, historic toy making, the making of dinner bells at a blacksmith shop, and visiting touch tables with animal skins, skulls and scat.
Going Green is more than just a saying in Gatlinburg. It's something we do every day and celebrate in a big way. The Hilton Garden Inn and the Gatlinburg Chamber of Commerce Foundation are presenting sponsors of Gatlinburg Earth Week. The Chamber Foundation provides traditional and non-traditional scholarships to members of the community. For more information about Earth Week and other Gatlinburg Smoky Mountain Spring events, visit http://www.gatlinburg.com/events or call (800) 588-1817.