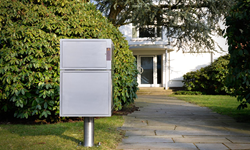 We are dedicated to giving everyone the opportunity to safely receive deliveries when they're busy working or doing what they enjoy. That's why we have spent over two years making Boxillion the ultimate, feature filled smart parcel box
Essen, Germany (PRWEB) April 14, 2015
Boxillion is the intelligent parcel box that safely receives deliveries and sends a notification when they arrive.
They've just launched on Kickstarter and have some great early bird specials. To watch them make fun of Amazon Prime Air (Amazon's drone delivery service) check out their video on Kickstarter.
Boxillion comes with some great features like a temperature sensor so it can send an alert when groceries or a milk delivery is getting too hot and Bluetooth which allows opening of the Boxillion with a smartphone.
With Boxillion:
Receive a smartphone notification when a parcel arrives
Never sign for a delivery again
Feel comfortable that parcels are safe from theft and weather
Get groceries delivered while nobody is at home
Avoid unnecessary trips to the Post Office
And more...
The Boxillion project is based in Germany and has been in development for over two years and is now fully functional and ready for production. Grab a Boxillion on Kickstarter right now or wait for sales to the public in Q3 of 2015.
For more information visit their website at http://www.boxillion.com or visit their Kickstarter page
###
If you would like further information about Boxillion or to schedule an interview, please contact Jeremy (Director) at jc(at)boxillion(dot)com or +4915110033885.