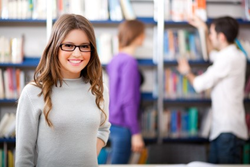 Fort Lauderdale, FL (PRWEB) April 21, 2015
TALK International, a global leader in adult English training, announced that they have expanded their course schedule to include afternoons and evenings.
TALK's new class schedules are designed to provide better scheduling options for students - from recently-arrived native Spanish speakers working or taking college courses locally, to busy single parents or stay-at-home moms. Afternoon classes have been added at the Fort Lauderdale, Aventura and Miami centers, and evening classes at the Aventura center.
"TALK Aventura's evening classes are perfect for me. During the day I can take advantage of running errands and practicing my English," says student Rita Miranda.
General English Full Time is TALK's most popular English course because it's accessible to people with all levels of English. TALK provides 10 levels, from beginner to advance. Advanced levels are ideal for students who wish to attend college or university.
The General English Full Time course is popular because it combines the TALK method of language learning with interactive classroom technology. This technology enhances the learning process and provides a fun learning environment. Using this technology, students are able to write and complete interactive web-based exercises on the interactive board.
TALK Fort Lauderdale teacher Vito Pelikan says, "Using interactive classroom technology improves cross-cultural understanding, participation, and student interaction in the classroom." Classes involve reading, listening and speaking on topics found in local newspapers, programs on National Public Radio (NPR), TV news clips, and other English-language media platforms.
New classes start every Monday throughout the year. Afternoon classes run from 1:00 pm to 4:15 pm and night classes from 5:00 pm to 8:15 pm.
Ready to learn English? For more information about the General English Full Time course at TALK English School, visit http://www.talk.edu or call our Admissions Office at 954-565-8505.