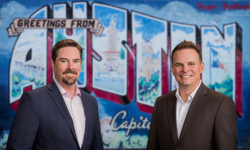 We will now be able to apply the successes Ken has had abroad and here in Texas to the entire North American power grid.
Austin, TX (PRWEB) April 15, 2015
Kenneth McIntyre has resigned his position as Vice President for Grid Planning and Operations at the Electric Reliability Council of Texas to become the Executive Vice President of The Anfield Group, one of the nation's leading grid reliability and cybersecurity consulting firms. At The Anfield Group, McIntyre will apply his extensive experience and expertise to assist in securing the North American power grid from successful cyber attacks, as well as significantly expanding the company's capability to provide additional technical and regulatory services.
"Ken's technical expertise, extensive industry experience and professional reputation make him a great addition to The Anfield Group," said Chris Humphreys, CEO of the consulting firm. "We will now be able to apply the successes Ken has had abroad and here in Texas to the entire North American power grid. His contributions will be invaluable to our continued success in providing our clients with honest and practical reliability and cybersecurity solutions based on real world experience."
A native of Brisbane, Australia, McIntyre is an electrical/electronic engineering graduate from the University of Southern Queensland and earned his MBA from Charles Sturt University. He began his electric industry career in 1995 as a senior operations engineer for Powerlink Queensland. He advanced to the position of operations team leader overseeing the utility's control room operations, operation planning and real time support. In February 2007, McIntyre joined ERCOT where he served as the Council's Director of Standards and Protocol Compliance; Manager of Operations and Planning Standards Compliance; Supervisor of Advanced Networks Applications; and Senior Operations Engineer. In April 2013, he was named ERCOT's Vice President for Grid Planning and Operations.
McIntyre's notable ERCOT achievements in Texas include the successful transition from the zonal to nodal market EMS and MMS systems, the connection and integration of intermittent energy resources, completion and energizing of the CREZ project, upgrading and improving control room and real time operations and the establishment of a nationally-recognized compliance program.
In addition to his duties at ERCOT, McIntyre held a number of committee, chairman and advisory positions with the North American Electric Reliability Corporation (NERC) and provided expert testimony at public hearings, served as a member of several national standard drafting teams, served as a subject matter authority on panels and provided technical expertise at various conferences, including those conducted by the Federal Energy Regulatory Commission.
"I am pleased to be joining The Anfield Group to support its continued success in providing high-quality and real-world solutions to utilities and grid operators," said McIntyre. "For the past twenty years, my goal has always been to help utilities and other industry stakeholders find solutions that make them successful. For them to meet today's technical and regulatory challenges, practical solutions have never been more necessary. The Anfield Group provides the ideal platform for me to help them find and implement these solutions."
Based in Austin, The Anfield Group specializes in advising the nearly 2,000 electrical utilities in the U.S. and Canada that are required to comply with increasingly complex standards for ensuring the reliable delivery of electricity to consumers and deterring physical and cyber attacks on the grid. In the U.S., failure to comply can lead to fines of up to $1 million per day imposed by the Federal Energy Regulatory Commission.
___________
The Anfield Group provides security to the North American power grid through the application of security-based strategies, regulatory compliance solutions integration, education and training.
"Now our enemies are seeking the ability to sabotage our power grid," President Barack Obama, State of the Union address, Feb. 12, 2013