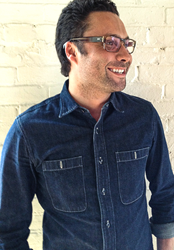 "Shane's mix of vision, data analytics, leadership and ability to develop and bring to market world class products and services is a significant step forward in our growth strategy." - Marc Castel, CEO
Toronto, Ontario, Canada (PRWEB) April 15, 2015
Maintenance Assistant, one of the world's leading maintenance software platforms, announced the appointment of Shane Skiffington as Vice President of Marketing. The appointment of Mr. Skiffington, a seasoned marketing professional with extensive international experience in marketing, product management, leadership and product development, will further strengthen the company's position as MA continues to drive growth through strategic product and market expansion initiatives.
"Shane's professional experience and drive for success will be a great addition to our executive team." said Marc Castel, CEO. "His mix of vision, data analytics, leadership and ability to develop and bring to market world class products and services is a significant step forward in our growth strategy."
On his new appointment, Skiffington said "I'm thrilled to be joining Maintenance Assistant at this time as they continue to experience tremendous growth by delivering world-class solutions to the market. I'm looking forward to working alongside senior leadership and our tremendously talented team of employees as we continue to expand upon our product offering and tackle new markets."
Shane began his career in marketing with BlackBerry™ where he held a global mandate for the marketing and commercialization of consumer software and services. Most recently, he held the position of Director, Product Marketing and Corporate Development with Workopolis™. Responsible for product marketing and corporate development, Skiffington led product strategy definition including product planning, product management, marketing strategy and new product introduction for the enterprise portfolio.
Maintenance Assistant COO, James Novak said, "Execution of our marketing strategy is critical for our growth plans throughout 2015. His impact will be immediate as we double our efforts on core markets and his leadership will help take us to the next phase of our company growth."
About Maintenance Assistant CMMS
Maintenance Assistant is one of the fastest growing cloud-based Enterprise Asset Management (EAM) and CMMS solution providers. Using cutting-edge design and technology, Maintenance Assistant develops and delivers maintenance software solutions that are used by thousands of asset-intensive businesses around the world to transform their maintenance operations, eliminate waste and costly downtime, and manage risk. Our robust technology platform enables our partners to build innovative cloud and mobile CMMS solutions for their customers, and participate in the on-going maintenance-related revenues associated with the products and equipment they sell. For a product overview, press releases and additional information about the company, please visit http://www.maintenanceassistant.com/ | Media Contact: Marketing - marketing(at)maintenanceassistant.com