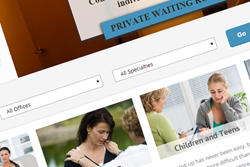 Finding a qualified therapist the specializes in treating a specific problem, such as anxiety or an eating disorder, and that can accept your insurance can be complex
Troy, MI (PRWEB) April 15, 2015
Great Lakes Psychology Group is very pleased to announce the addition of a "Find a Therapist" feature on its website. The feature will facilitate the selection of a behavioral healthcare provider by allowing website visitors to search for a therapist by location and specialty.
"Finding a qualified therapist the specializes in treating a specific problem, such as anxiety or an eating disorder, and that can accept your insurance can be complex" says Richard Kneip, Ph.D., President at Great Lakes Psychology Group, "so much so that some people give up in their search to find help when they need it most. Our mission is to make the process of finding the right therapist as simple and straightforward as possible."
Formed in 2011 in Clarkston, Michigan, GLPG provides mental health and substance abuse care with special emphasis on treating depression, anxiety, marriage and family problems, children's emotional and behavioral problems, and psychological assessment.
GLPG conforms to the highest standards of privacy and confidentiality, utilizing advanced electronic medical records, scheduling, and claims processing. In addition to evening and weekend appointments, the office also offers semi-private and private waiting areas for the convenience and privacy of visitors. Visitors to their website at,Michigan Marriage Counseling can complete an anonymous mental health screening, submit questions, schedule appointments, and verify their insurance benefits prior to their first visit.