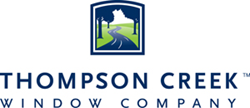 By working with our partners in Prince George's County, we are ensuring that Thompson Creek – a home-grown, family-operated Maryland company – has a new manufacturing and warehouse facility with the space needed to expand and add new jobs - Governor Hogan
Upper Marlboro, MD (PRWEB) April 14, 2015
Groundbreaking ceremonies have been scheduled for Monday, April 20 at 3:15 pm for the initiation of construction of a new 117,000 square foot building housing the manufacturing and warehouse operations of Thompson Creek Window Company at 8300 Pennsylvania Avenue in the Upper Marlboro section of Prince George's County, Maryland. The $20 million project is being undertaken by Chesapeake Real Estate Group, a locally-based commercial real estate and development company, on the site of the existing Murry's Steaks facility adjacent to Exit 4 of the Capital Beltway.
Maryland Governor Larry Hogan, as well as officials from Prince George's County, Maryland, Thompson Creek Window Company and Chesapeake Real Estate Group will participate in the ceremony.
"By working with our partners in Prince George's County, we are ensuring that Thompson Creek – a home-grown, family-operated Maryland company – has a new manufacturing and warehouse facility with the space needed to expand and add new jobs ," said Governor Hogan. "Assisting companies like Thompson Creek underscores our commitment to creating a culture in Maryland where all businesses can grow and thrive."
"When you successfully retain a corporate headquarters and manufacturing company with 400 jobs in Prince George's County, it's a great day to be County Executive," said Prince George's County Executive Rushern Baker. "Thompson Creek's commitment to expand its operations and remain in Prince George's County adds to Prince George's success as a significant employment center. This is great news for Prince George's County. Any state would have been fortunate to land such a major player in the home improvement industry. The fact that Thompson Creek Window Company chose to expand and remain in Prince George's County further demonstrates the county's ability to meet the needs of growing manufacturing businesses."
Thompson Creek Window Company operates as a Mid-Atlantic home improvement and replacement products company. For the past thirty years, the firm has been customizing and manufacturing replacement windows, doors, gutters and siding in the residential and commercial marketplaces. In 1980, Thompson Creek began manufacturing energy efficient windows on West Street in Annapolis. They quickly outgrew that facility and in moved to a location on Thompson Creek Road in Stevensville, MD. In 2007, the company moved into a 70,000 square foot facility in Landover with a new corporate headquarters in nearby Lanham. Thompson Creek Window Company's product mix includes replacement windows, doors, siding and a clog-free gutter system.
The $20 million includes $17 million for land acquisition and construction, and an additional $3 million for equipment and related infrastructure. Work on the new facility is expected to be completed in the first quarter of 2016. The Company plans to retain its existing 330 full-time employees and hire 150 new employees for a total of 480 permanent full-time employees at its various County locations by the end of 2021.
Prince George's County has created an Economic Development Incentive Fund ("EDI Fund") to support job retention and attraction, economic development and redevelopment in Prince George's County, and has offered the Company an incentive package consisting primarily of conditional loans and new jobs tax credits. To assist with the construction of the new facility, the Maryland Department of Business and Economic Development (DBED) has approved a $750,000 conditional loan based on project costs and job creation.
"The building and the location are a perfect match for Thompson Creek Window Company. The new facility is just seconds from I-95 and will provide us the space we need to grow and provide new jobs in Prince George's County. The move will be seamless, allowing us to continue deliveries to our customers throughout the region and continue our mission of creating the best customer experience in our industry. Everyone with Thompson Creek Window Company is excited to partner with Chesapeake Real Estate Group to create a state-of-the-art manufacturing, warehouse and distribution facility to meet our growth objectives," said Rick Wuest, President, Thompson Creek Window Company.
"Thompson Creek Window Company is a recognized leader in the regional home improvement industry, and attracting a stable and extremely well-managed company to our Maryland portfolio represents a tremendous opportunity for our company," stated James Lighthizer, Principal, Managing Partner of Chesapeake Real Estate Group. "Our team worked hand-in-hand with Thompson Creek in its comprehensive real estate search. This site offered every amenity and advantage the company required, including rapid connections to major highways and access to a talented and loyal labor market."
Chesapeake Real Estate Group, LLC, headquartered in Baltimore, Maryland, is a full-service commercial real estate operating company that includes brokerage, property management and development services. The firm currently has more than two million square feet of industrial projects planned in the Mid-Atlantic region. Notable projects include the Landover Logistics Center, Steeplechase @95 International Business Park, 8235 Patuxent Range Road and 1200 East Patapsco Avenue. For more information visit http://www.cregllc.com.