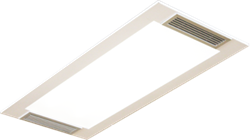 "The HRMS system is so effective that children and teachers with asthma were virtually symptom-free once the units were installed."
South Bend, Indiana (PRWEB) April 15, 2015
Schools have long been considered a place where germs get passed around. There is a new solution on the market to keep many of those coughing and sneezing children from spreading viruses and bacteria to one another. It's called the Health Risk Management System or HRMS. It's a patented environmental disinfection system that uses UVC to eliminate dangerous pathogens. Manufactured by American Green Technology® (AGT), the HRMS is designed as a light fixture so it provides an unobtrusive replacement for many standard commercial lighting systems that are currently in use. Airborne Pathogen Removal will market and distribute the HRMS exclusively to school systems throughout Florida, Georgia and New Jersey.
"There is nothing more satisfying than being able to provide a technology that will help kids stay healthy and in school," said Kyler Lunman, Managing Partner of Airborne Pathogen Removal. "The HRMS system is so effective at eliminating fungi and mold that children and teachers with asthma and allergies were virtually symptom-free once the units were installed. We were amazed at how quickly it worked. This is an ideal product to keep children from passing germs to one another. We believe schools will rethink the way they approach traditional methods of room disinfection."
"Besides the healthcare industry, there is not a better place to market the HRMS than to schools and daycare centers," said Danny Bogar, CEO of AGT. "Our system is perfectly suited for this application. It will draw the dirty, contaminated air into the system and push clean, purified air back out; keeping kids healthier in the process. Unlike frequent hand-washing which every educator stresses, the HRMS doesn't require any attention, it is in the room working all day, every day. "
According to the United States Environmental Protection Agency (EPA), approximately 25 million Americans suffer from asthma, including 7 million children. One out of every 10 school-age children on average has asthma, and the percentage of children with asthma is rising more rapidly in preschool-age children than in any other age group.
It is estimated that each year in the United States, there are more than 20,000 children from 1 to 5 years old who are hospitalized due to influenza, with some of those resulting in death. Children with chronic health problems like asthma are at a higher risk of complications from influenza.
To learn more about how the HRMS can improve air quality for a local school and provide a safe environment for children, log onto http://www.airbornepathogenremoval.com.
About American Green Technology:
American Green Technology® (AGT) is a company dedicated to developing innovative, sustainable products to positively impact the health, economy and environment of global communities. AGT's Health Risk Management System (HRMS) is a patented UVC lighting product clinically proven to eliminate 99.7% of airborne pathogens that cause Healthcare-associated Infections (HAIs) in hospitals or wherever it is installed. agthrms.com
# # #