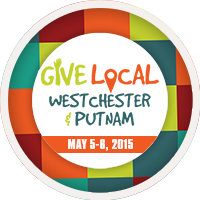 Westchester and Putnam Counties, N.Y. (PRWEB) April 14, 2015
More than 160 local nonprofit organizations have signed up for the inaugural 24-hour giving day, Give Local Westchester & Putnam. In addition to donating to their favorite charity, residents will have a chance to win additional funds for the nonprofit of their choice from noon May 5 to noon May 6 at http://www.givelocalwp.org.
Give Local Westchester & Putnam is part of the largest online giving event in history, joining more than 100 regions across the country in partnership with Give Local America to raise millions of dollars for the greater good – all on a single day. Last year, Give Local events raised more than $53 million nationally.
United Way of Westchester and Putnam is the force behind bringing Give Local to Westchester and Putnam. After observing the success of other giving days across the country, President and CEO Alana Sweeny made it her mission to bring Give Local home.
"This is truly a rally call for the community, and a unique opportunity to make a direct, positive impact on the lives of Westchester and Putnam's residents who are most in need," Sweeny said. "The national giving day has become a tremendous tool for nonprofits both large and small to raise critical funds for their work."
This community-wide event celebrates the spirit of giving and the collective effort it takes to strengthen communities by raising significant funds for local nonprofits. The day of giving provides an opportunity for individuals to support causes such as health and wellness, crisis support, arts and culture, elder care, environment, job training, animal care, and education.
"Many people don't realize how important nonprofits are to meeting the diverse needs of our residents," Sweeny said.
Give Local business partners include WESTMED Medical Group (sponsoring the Westchester County section), Westchester County Association, and Balancing Life's Issues. Large and small local businesses are encouraged to join the movement by becoming sponsors, donating prizes, and promoting the event amongst employees. Businesses can "adopt-an-hour," a specific cause or organization, or align their business with a county.
More than $1,800 in cash prizes will be awarded by United Way throughout the 24-hour period based on fun themes like the "Lunch Time Special," a $200 bonus for the organization who raises the most money during peak midday hours, and a "Kickoff Prize" for the first organization to receive a donation of $500 or more.
Starting April 13, supporters are encouraged to participate by posting a photo or video on the event Facebook page or tagging with #GiveLocalWP on Twitter, stating why they support their chosen nonprofit. A team of United Way staff and volunteers will select their favorite post and announce the winner of a $200 prize for their chosen nonprofit by 5 p.m. on May 6. Posts will be judged based on originality, tie-in to Give Local, and emotional reaction.
For the full list of prizes, rules and regulations, participating nonprofit organizations, and sponsorship opportunities, please visit http://www.givelocalwp.org. Sponsorship levels range from $250 to $6,000. Please contact Peter West at 914-997-6700, ext. 732 for more information.
About United Way of Westchester and Putnam:
For the past 50 years, United Way of Westchester and Putnam has operated with the fundamental belief that all people deserve a quality education, enough income to support a family, and opportunities for a healthy lifestyle. United Way works with agency partners, government, businesses and community leaders to solve problems that are too complex for any one entity alone. All contributions go toward improving the education, income, and health of the children, youth and families throughout Westchester and Putnam. United Way's Hudson Valley Region 2-1-1, covering Westchester and Putnam as well as Dutchess, Orange, Rockland, Sullivan and Ulster counties, answers up to 500 calls and 1,000 online inquiries per day ranging from tax, heating, and mortgage questions to childcare, basic needs, natural disaster and crisis calls. United Way of Westchester and Putnam is at 336 Central Park Ave., White Plains, NY 10606. They can be reached at 914-997-6700 or by visiting http://www.uwwp.org. Follow United Way on Facebook (http://www.facebook.com/UnitedWayWP) and Twitter (@UnitedWayWP) for the latest news and updates.