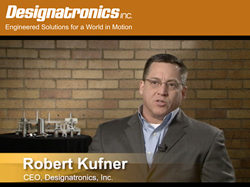 The customer is so focused on cost, they fail to realize the imbedded value we provide beyond price, such as high repeatable quality, reliability of components, service, and agility in response to their specific or changing requirements
New Hyde Park, New York (PRWEB) April 15, 2015
Designatronics, a leader in comprehensive mechanical solutions for critical motion control applications is pleased to announce completion of a video focusing on the challenges in manufacturing and how they are positioning themselves for continued growth. The video was produced by Enterprises for an upcoming TV show, "Key Manufacturing Services and Solutions Driving Industry Success".
Designatronics provides complete mechatronic engineered solutions and services which include design, prototype, testing and manufacturing. Their products are used in the commercial, industrial and defense industries. High-quality machined parts, molded components and custom gearing are built for applications including robotics, medical devices, flight control actuation, surveillance, and positioning systems. One of the problems facing U.S.A. manufacturers today is loss of high production orders to cheaper offshore manufacturers.
"Our design engineers, manufacturing teams, and sales staff invest a great deal of time and effort in providing a workable solution to the customer's specific application. The customer is so focused on cost," says Wayne Martin, V.P. Operations, "they fail to realize the imbedded value we provide beyond price, such as high repeatable quality, reliability of components, service, and agility in response to their specific or changing requirements."
Viewers of the video will learn how the company is facing this and other challenges.
The Enterprises TV show will air later this year on various television networks, view the video now at: http://www.designatronics.com/Press/Designatronics-is-meeting-the-challenges-in-todays-manufacturing-industry.php
For more information about Designatronics, Stock Drive Products, Sterling Instrument, QTC METRIC GEARS and Quality Bearings & Components, their product lines and capabilities go to: http://www.designatronics.com .
About Designatronics
Designatronics, Inc. manages its brands to develop comprehensive mechanical solutions for industrial and commercial markets, including aerospace and defense, satellites, automation, oil and gas, and medical. Integrated design, engineering and manufacturing are under one roof. Stock Drive Products offers both inch and metric off-the-shelf mechatronic components for the design engineer. Sterling Instrument makes high-quality precision gears and custom gear assemblies, prototype to large production runs. QTC METRIC GEARS supplies North America with metric gears. Quality Bearings & Components – the bearing marketplace, offers bearings and bearing maintenance equipment. For more information, visit http://www.designatronics.com.