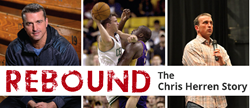 Richmond, Virginia (PRWEB) April 15, 2015
Basketball legend Chris Herren will address high school students in the Center for the Study of Boys "Journeys to Manhood" series on Friday, April 17, 2015. St. Christopher's School will host students from throughout the Richmond area to join their Upper School students for the presentation. These guests include more than 75 students from area high schools as well as students from the Boys and Girls Club of Metro Richmond, the George Wythe High School basketball team, Amelia High School's Men of Honor program, and Building Leaders RVA. The University of Richmond basketball team will also be in attendance, and Head Coach Chris Mooney will introduce Chris Herren.
Chris Herren, a native of Fall River, Massachusetts, dreamed of one day playing for his hometown team, the Boston Celtics. An All-American, Herren broke scoring records, was recruited by top colleges, featured in Sports Illustrated, and the focus of an acclaimed book, Fall River Dreams. He went on to realize his lifelong dream of playing for the Celtics, but lost it all to substance abuse.
Alcohol and substance free since August 1, 2008, Herren has refocused his life – putting his sobriety and family above all else. He shares his harrowing story of abuse and recovery in his memoir, Basketball Junkie, as well as in numerous interviews throughout the Emmy nominated ESPN Films documentary Unguarded, of which he is the subject.
The Center for the Study of Boys is dedicated to promoting best practices in engaging and teaching boys through research, professional development and programming. It serves as a resource for the St. Christopher's community—teachers, parents and the boys themselves—and is also a resource both locally and globally for those interested in understanding and working with boys.
St. Christopher's School, founded in 1911, is a college preparatory school for boys (junior kindergarten through 12th grade) in Richmond, Virginia. A rigorous academic program, small classes, dedicated and nurturing teachers who are experts in how boys learn, a vibrant program in athletics and the arts, and a commitment to academic excellence and diversity are attributes of a St. Christopher's education.