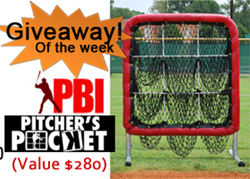 PBI is a free resource for serious baseball players, where they can learn from MLB and MiLB pros, and where wallet size is not an issue.
(PRWEB) April 16, 2015
Pro Baseball Insider (PBI) has partnered with Better Baseball to giveaway a baseball gear favorite – the Pitcher's Pocket 9 hole net (Value $280 with shipping) in order to celebrate and promote the newly launched Best Baseball Nets – Testing & Reviews,
Don't worry, this baseball net is not just for pitchers.
Best Baseball Nets is part of an ongoing effort by PBI to provide free baseball tips and advanced instruction for hitting, throwing, pitching, mental strategy and other critical baseball skills, exclusively from MLB & MiLB baseball players, coaches, trainers and scouts.
Minnesota Twin and PBI founder Doug Bernier explains,
"I've been privileged to play with or be coached by some of the best around [a long list that includes greats like Joe Girardi, Mike Gallego, Derek Jeter, and more] and I am constantly amazed at how knowledgeable my teammates and coaches are.
"I thought to myself, I wish I knew this stuff when I played youth baseball, or even travel or college baseball. I could've avoided a lot of mistakes. So we decided to make it happen.
"Now we invite current and former pro guys to contribute their knowledge to help out the kids at no cost, and then we try to help the guys promote their charities or businesses where we can. It's a win/win."
PBI exists to give aspiring players, and the coaches and parents who support them, access to learn from MLB and MiLB guys. It's about helping players develop big league skills that will help achieve their goals and their odds of playing at the highest level in baseball."
Since PBI offers nearly everything on the site at no charge, they support their efforts by having pro players also review their favorite baseball gear and then linking those recommendations to various retailers affiliated with Pro Baseball Insider.
PBI founders Doug and his wife Sarah like it this way "because it helps keep the information open for everyone at zero cost, an equal playing field where you don't have to spend an arm and a leg to learn from the best. And we've also made a solemn promise to our readers to never let a product buy it's way onto our site. We only recommend what the pros are really using or has at least been tested by us or someone we trust. The integrity of our brand is very important to us."
"We may offer paid things from time to time, as necessary, but the keeping the majority of the content available to everyone at no cost is the heart of who we are, and that's not going to change," says Doug's wife and PBI co-founder, Sarah Bernier.
About the giveaway prize:
"The net we're giving away this week is our favorite baseball gear discovery for this year. The pockets are a really unique way of giving immediate feedback about throwing accuracy, a critical skill for any player on the baseball field.
It's also incredibly stable, durable, time-saving and easy storage. It works for individual home practice, commercial baseball schools, high school or college teams, youth baseball equipment, etc. My perfect baseball setup definitely includes one or more of these baseball nets." – Doug Bernier, Minnesota Twins
Giveaway details:

Prize: Pitcher's Pocket 9 Hole Net by Better Baseball; Value $280 with shipping
When: Begins Wednesday April 14, 2015 and ends Wednesday April 22, 2015
Where: Visit Best Baseball Practice Nets – Tested and Reviewed to view the entry form
Winner will be randomly selected and announced April 23, 2015
Bonus entries – After entering, watch for opportunities to increase chances of winning. Enterants who share the contest with their friends are awarded 10 additional entries for each referred friend who enters the giveaway.
###
Pro Baseball Insider is a free resource that exists to help serious baseball players maximize their potential by providing baseball tips and instruction from professional baseball players. PBI founder Doug Bernier made his Major League Baseball debut with the Colorado Rockies in 2008 and is currently plays for the Minnesota Twins organization. During off seasons, Doug lives with his wife and co-founder Sarah and 2 daughters in Denver, Colorado. Follow on Facebook or Twitter @lowliners for future giveaways and baseball tips from MLB and MiLB pros