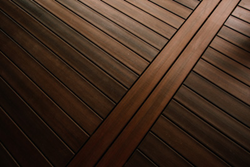 Springdale, Ark. (PRWEB) April 14, 2015
NBC's "Today" show, one of the most popular shows in daytime television, included a do-it-yourself project built with MoistureShield composite decking. In the April 13 segment, Jamie Durie, home improvement expert and star of the FYI Network's "Outback Nation," showed viewers easy-to-build segmented walkways made of MoistureShield decking, to boost their home's curb appeal. In discussing the product with show hosts Kathie Lee Gifford and Hoda Kotb, Durie described MoistureShield's 95% recycled content and ease of installation.
Viewers of Durie's "Outback Nation" also will see MoistureShield decking featured in four projects this season, the first one of which aired April 13.
MoistureShield composite decking and railing offers the solution for every decking need with its range of attractive colors, realistic embossed wood grain patterns and grooved boards to accommodate hidden fasteners. Because of a unique manufacturing process, each MoistureShield board is protected to the core, making it the only composite decking durable enough to be installed on the ground, in the ground or underwater and still be protected by the industry's leading lifetime warranty. With 95% total recycled content, MoistureShield products are also an environmentally responsible choice, helping prevent discarded plastics from ending up in landfills.
For more information on MoistureShield products, visit http://www.moistureshield.com.
About MoistureShield and Advanced Environmental Recycling Technologies (A.E.R.T.)
Advanced Environmental Recycling Technologies, Inc., (A.E.R.T.) is a microcap, entrepreneurial, publicly held manufacturing company. The development of new technologies and patents has enabled it to produce superior new products from recycled wood fiber and recycled polyethylene plastic for the building and construction markets. A.E.R.T. is the exclusive manufacturer of MoistureShield® composite decking.