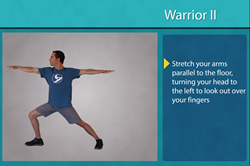 These videos are going to give desk workers an opportunity to use their body the way it's meant to be used, even when they're at work.
Kingston, NY (PRWEB) April 15, 2015
Surfing workouts are a trend sweeping the nation. From indoor surfing exercise classes to SUP Yoga to paddle boarding, even Mark Cuban from ABC's Shark Tank has gotten in on the surf-inspired action, investing $300,000 into SURFSET boutique surfing fitness classes. Which is why Voom, a workplace wellness and activity platform, today announces that it has added a new series of surf-inspired videos to the program's queue.
Voom founders Dr. Eric and Dr. Greg Soltanoff, brothers who grew up surfing around the world, know firsthand what an incredible workout surfing is and how beneficial it can be for our bodies. "Surfing is a total body workout" says Dr. Eric Soltanoff. "It takes flexibility, a strong core, mobility, a sense of your body in space, and it engages not only your musculoskeletal system, but provides great cardio training as well."
Voom's mission is to get people moving more throughout the day with 2 minute "Work" Outs once an hour. Because the program engages with users in short but frequent video breaks, there is a strong focus on providing the very best, most beneficial and efficient exercises for the body and brain. "Adding dynamic stretch routines were next on our list, and I immediately thought about warm ups I had seen my buddy and professional surfer Tyler Fox doing before going out on his board. When I called and asked him to contribute, he jumped right in."
Fox and Soltanoff shot 38 of Fox's favorite yoga-inspired moves over a two day span in northern California. The resulting 43 Work Outs that are being added to the Voom program include exercises like The Hula Hoop, Warrior II, The Flamingo, Cobra, and Surf Squats. "Before going out in the water, I have to warm my body up, being sure to engage every muscle group," says Fox. "These videos are going to give desk workers an opportunity to use their body the way it's meant to be used, even when they're at work."
Over the years, countless studies have detailed the devastating effects prolonged sitting can have on our bodies over time. Desk workers who sit for long periods have a higher rate of cancer, diabetes, heart disease, and obesity. They are also at risk of developing repetitive strain injuries of the neck, back, and wrists. We now know that getting to the gym or going on a run for an hour a day isn't enough to keep our bodies healthy – what we do the rest of the 23 hours of the day matters too.
Voom was created to act as a personal trainer for your desk by notifying you once an hour that you've been sitting for too long. By reminding you to get up and move, the program helps to reduce your risk of chronic disease and injury while increasing energy and focus. "We're really proud of what we've created, and we're changing lives every day," says Soltanoff. "Now for us, it's about continuing to improve, offering more exercises, more healthy challenges, and more incentive to get Vooming. Tyler's videos are just another way for us to achieve these goals."
Voom is offered within a "gamified" framework, giving users the opportunity to earn points, badges, and rewards for fulfilling program requirements. The wellness program also issues weekly report card emails, keeps users engaged by utilizing network leaderboards, and allows both individuals and business administrators to track progress.
Voom can be licensed for corporate users or purchased for personal use. For further information about Voom, to purchase the program for your business, or to inquire about partnership opportunities, please visit http://www.voomwell.com.
About Voom:
Voom is a complete, cost-effective, fitness and wellness program that gets employees moving throughout the day with hourly exercise breaks. The program engages, motivates, and educates users on the importance of physical activity and mental well-being, making health and fitness both attainable and fun.