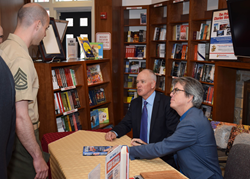 Quantico, Virginia (PRWEB) April 16, 2015
The Marines of "The Crossroads of the Corps" at Quantico, Virginia were in for a treat on Friday, April 10 with a visit from New York Mets General Manager Sandy Alderson and Steve Kettmann, author of Baseball Maverick at a well-attended "Meet the Author & Book Signing" event at The MARINE Shop.
Alderson, a veteran Marine who served in Vietnam and on the Silent Drill Platoon at Marine Barracks Washington, started in baseball management with the Oakland Athletics and is portrayed in the book as one of baseball's innovative pioneers in the field of statistical analysis of the sport. He is credited with helping the Oakland "A's" win the 1989 World Series. In 2010, when the New York Mets were in trouble they sought out Alderson who used creativity and innovative techniques to turn the situation around.
A political writer and columnist Steve Kettmann was a sportswriter for the San Francisco Chronicle became a widely regarded expert on the subject of steroid use in baseball and is the author of One Day at Fenway as well as his latest, Baseball Maverick.
A story about the "Meet the Author & Book Signing" event along with links to pictures of the many Marines who attended are available at our website located at http://www.mca-marines.org.
The Marine Corps Association & Foundation is the preeminent association and foundation for all Marines and friends of the Corps dedicated to the development and recognition of professional excellence and expanding the awareness of the rich traditions, history, and esprit of the United States Marine Corps. The MCA&F advances leadership and recognizes excellence by hosting award ceremonies, facilitating Commanders' Forums, delivering Commanders' Unit Libraries, publishing and distributing the Marine Corps Gazette and Leatherneck, and by providing quality uniforms and accessories at the best value. The MCA&F understands and respects the achievements and sacrifices made by Marines and their families while serving this great nation. For more information, visit http://www.mca-marines.org