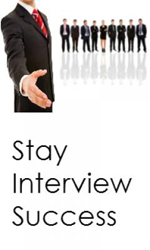 This webinar provides us a great opportunity to show what really drives employee engagement and retention in the real world - managers
ORLANDO, Fla. (PRWEB) April 15, 2015
On April 22, HRsoft, the leader in High Impact Talent Management(TM) software, will host a webinar with the leading stay interview expert, Dick Finnegan, titled: How To Turn Managers Into Retention Rockstars. The webinar will feature Dick Finnegan, author of SHRM's top-selling book, the Power of Stay Interviews for Engagement and Retention and HRsoft's Chief Marketing Officer, Brian Sharp.
The webinar will address the importance of developing manager Stay Interview skills while holding them accountable for employee retention results. Topics will include:

How to build retention accountability with your managers using stay interviews
How to help your managers build relationships and trust using stay interviews
How to help managers set effective turnover goals
How to calculate the true cost of employee turnover
"This webinar provides us a great opportunity to show what really drives employee engagement and retention in the real world - managers. But it's not just about giving managers another task, it's about holding them accountable for the employee retention results in their department. This webinar will give the details on how to do just that," said Sharp.
Don't miss this free, exclusive opportunity to learn from the industry's leading stay interview expert, as he shares inside strategies and best practices to increase retention and engagement using stay interviews.
For more information and to register visit:
https://hrsoft.leadpages.net/stay-interview-success/
About HRsoft:
HRsoft is a cloud-based, High Impact Talent Management(TM) software company that specializes in improving employee engagement and retention for mid-sized employers. Discover more about HRsoft at http://www.HRsoft.com or follow us on Twitter @HRsoft_inc.
For more information:
Brian Sharp
Chief Marketing Officer
Email: brian.sharp(at)hrsoft(dot)com
Direct: 407-475-5500 ext. 771
###
Source: HRsoft
Dated: April 14, 2015