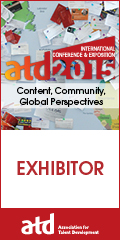 We believe that the best way to reach everyone is to offer your training materials in print and online.
Madison, WI (PRWEB) May 07, 2015
Omnipress, provider of educational material solutions, will attend the ATD (Association for Talent Development) 2015 International Conference & Exposition at the Orange County Convention Center in Orlando, Florida, May 17-20, 2015.
The Omnipress team is eager to meet ATD members and discuss the benefits of both printed and online training materials. Attendees are encouraged to visit booth #406 to speak with Product Director Dan Loomis and Account Manager Julie Jehle.
"Our theme for this conference is 'The Marriage of Print and Online,'" Dan said. "We believe it's best to give course participants the choice to read training materials in print or online. Both formats have their own advantages and drawbacks, so it makes sense to let learners determine which one works best for them. Omnipress can help organizations provide print and online training materials, all under one roof."
To continue the wedding theme, Omnipress is offering attendees the chance to win a "honeymoon"—a $100 gift card to Kings Orlando, awarded to one attendee on Monday, May 18th, and two day passes to Disney World, which will be given away on Tuesday, May 19th. Attendees can stop by booth #406 to register to win.
"We have seen organizations choose online training materials, based solely on cost-cutting initiatives concerns. It's important to take both cost and learner experience into account when deciding how to provide training content," said Product Director Dan Loomis.
"The bottom line is that this doesn't have to be a fight. Print and online training materials can coexist happily, like a married couple—better as a unit than either one is on its own. That's how we see printed and online training materials, and we hope to help ATD 2015 attendees see the benefits of using both platforms to deliver education to their learners."
For more information, visit Omnipress.com, where you can also subscribe to our blog. Omnipress can also be found on LinkedIn, Twitter, and Facebook.
# # #
About Omnipress
Omnipress helps organizations produce and deliver educational resources for learners.
Products Include:
-- Print on Demand
-- Order Fulfillment
-- Custom Kitting
-- Inventory Management
-- Online Training Materials
-- USB & CD Production
Our customers rely on us for our nearly 40 years of dedicated customer-service and undisputed dependability.