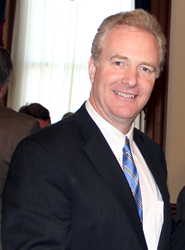 (The Congressman) is a great friend to our organization, which supports adults with developmental disabilities, helping them to thrive right here in our Montgomery County communities
Bethesda, MD (PRWEB) April 15, 2015
The Jubilee Association of Maryland, which provides living support programs to adults with developmental disabilities, will honor Congressman Chris Van Hollen on April 20th at the Bethesda Marriott Conference Center. About 500 guests are expected at the Toast, which will benefit Jubilee's dynamic programs serving 135 adults throughout Montgomery County, allowing them to live as independently as possible, while staying close to family and friends.
The event, 'Celebrating Milestones of Change', will also Toast two pieces of landmark legislation that have dramatically improved the lives of those with disabilities – The Americans with Disabilities Act (ADA), now celebrating its 25th year, created more opportunities for people with disabilities, and the recently passed ABLE Act, provided for greater financial freedom for people with disabilities and their families.
"We're thrilled to be honoring Congressman Van Hollen at our Toast this year, as he has been an instrumental part of continuing legislation that means people with disabilities can live better and more independent lives. He is a great friend to our organization, which supports adults with developmental disabilities, helping them to thrive right here in our Montgomery County communities," says Tim Wiens, Executive Director of Kensington's Jubilee Association. He adds, "We have a lot to celebrate this year, including 25 years of dramatically increased opportunities for people with disabilities through the ADA, and this year's ABLE Act."
The event will also feature success stories – adults with developmental disabilities whose lives have been changed – and in some cases saved – by Jubilee programs. Former White House Press Secretary, Mike McCurry will emcee the evening, and about 500 guests including area business leaders and families are expected to attend. Toasters include Brian Frosh, the Maryland Attorney General; Shirley Brandman, Former Member of the Montgomery County Board of Education; and Phil Alperson, Montgomery County BRAC Coordinator.
Several live auction items will also be available at the Toast including luxury car loaners and DC Sports team ticket packages. Montgomery County Councilmember Craig Rice will lead the bidding for the evening.

For more information on the 2015 Jubilee Toast, please visit: http://www.jubileemd.org
Interviews are available upon request.
Bethesda North Marriott Conference Center
5701 Marinelli Road, Bethesda, MD 20852
April 20th, 2015, 6:00pm
About Jubilee Association of Maryland: Jubilee is a 501(c) (3) non-profit organization providing dynamic support programs that allow adults with developmental disabilities to thrive in Montgomery County communities. Jubilee programs allow these adults to and be as independent as possible, by giving them the support they need to be successful, while remaining close to family and friends. For more information, please visit http://www.jubileemd.org.
# # #