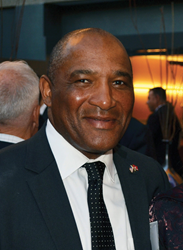 Triangle, Virginia (PRWEB) May 06, 2015
The Marine Corps Association & Foundation will host the 2015 MCA&F Ammo Tech Awards Reception on Wednesday, May 20, 2015 at the National Museum of the Marine Corps at 900 Jefferson Davis Highway in Triangle, Virginia.
The reception serves as the occasion to recognize the professional achievements of the top performing Marine leaders in the ammunition technician community during 2014. Four awards will be presented at the event to the Ammo Tech Marine, Non-Commissioned Officer, Staff Non-Commissioned Officer and Officer of the year. The three enlisted awards are named for Gunnery Sergeant Edwin Wayne Johnson, USMC, a dynamic leader in the Marine Ammo Tech community who died in action in 2009 leading his men in a firefight in the Ganjgal Valley in Afghanistan.
Lieutenant General Ronald Coleman, USMC (Ret) will be the guest speaker and will help present the evening's awards.
Attendance is $30.00 for MCA&F members and $60.00 for non-members. Active duty Marines may attend at no charge, but must register. The reception will start at 5:00 p.m. and conclude around 7:00 p.m. Reservations can be made online at http://www.mca-marines.org/events or by calling 703-640-0174.
The Marine Corps Association & Foundation is the preeminent association and foundation for all Marines and friends of the Corps dedicated to the development and recognition of professional excellence and expanding the awareness of the rich traditions, history, and esprit of the United States Marine Corps. The MCA&F advances leadership and recognizes excellence by hosting award ceremonies, facilitating Commanders' Forums, delivering Commanders' Unit Libraries, publishing and distributing the Marine Corps Gazette and Leatherneck, and by providing quality uniforms and accessories at the best value. The MCA&F understands and respects the achievements and sacrifices made by Marines and their families while serving this great nation. For more information, visit http://www.mca-marines.org