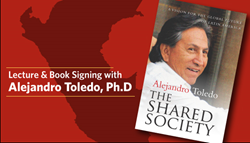 San Francisco, CA (PRWEB) April 14, 2015
WHAT: The University of San Francisco (USF) will host alumnus and former Peruvian President Alejandro Toledo for an engaging conversation about his new book, The Shared Society: A Vision for the Global Future of Latin America. The evening will explore Toledo's vision for a Latin America that is just, sustainable, and prosperous.
WHEN: Tuesday, April 14, 2015 at 5:00 p.m.
WHERE: McLaren Conference Center on USF main campus (2130 Fulton Ave.)
ABOUT: In his book, The Shared Society: A Vision for the Global Future of Latin America, President Alejandro Toledo looks at the future of a changing global world, and the role that Latin America will have by the time we reach 2050. His presentation this evening will explore the decisions leadership will have to make in order to approach future challenges, such as the need for clean drinking water, food security, and quality health care and education for generations to come.
Alejandro Toledo served as president of Peru from 2001 to 2006, and was the country's first democratically elected president of indigenous ancestry. During his term as president, the Peruvian economy grew. Toledo comes from a family of impoverished Quechauan farmers, and grew up shining shoes. He attended the University of San Francisco on an academic scholarship and received a B.S. in 1971. After earning two master's degrees, and a Ph.D. in economics from Stanford University, he worked in international economics at the United Nations (1976–78, 1989) and World Bank (1979–81). Toledo is founder of the Lima-based think tank Global Center for Development and Democracy, which addresses issues of democracy, economic growth, and social inclusion.
CONTACT: For more information, please contact Anne-Marie Devine Tasto at 415.422.2697 or abdevine(at)usfca(dot)edu. Members of the media, please RSVP to obtain a press pass and convenient campus parking.