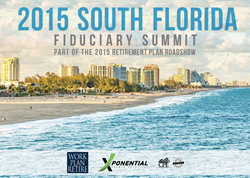 Making retirement plans work effectively for employers & employees is not an easy task.
Fort Lauderdale, FL (PRWEB) June 02, 2015
The [2015 South Florida Fiduciary Summit is an educational workshop that brings together both local and national expertise to interact with CFOs, HR Directors, and Business Owners. The goal being to help employers reduce fiduciary risk, identify plan upgrades, and make better decisions that positively impact participants.
"Making retirement plans work effectively for employers and employees is not an easy task," says Brett Shofner, Senior Vice President of Work Plan Retire. "This summit is the platform for proactive plan sponsors to access training and make expert connections to work towards that single goal. Accomplishing the mission of successful retirement outcomes for employees and participants."
Speakers include: Brett Shofner, Senior Vice President – Work Plan Retire; Associates from Cherry Bekaert; and more. The event will also feature special guest Motivational Speaker, David Rutherford, a Behavioral Training Specialist, Author, & former Navy SEAL who is sure to bring this summit to life.
Topics of Discussion:

Making Retirement Plans Work for Employers & Employees
Plan Design & Participant Outcomes
Target Date Fund Panel featuring Senior Personnel
Ask the Experts: Local Professional Panel
What Every Fiduciary Needs to Know for 2015
Evaluating the Reasonableness of Plan Fees
RFP Best Practices
The 2015 South Florida Fiduciary Summit is the ninth stop of the Retirement Plan Roadshow and will be held at Nova Southeastern University located at 3301 College Ave, Fort Lauderdale, FL 33314 on June 11, 2015 from 11:00 AM to 3:00 PM (lunch will be served). The 2015 South Florida Fiduciary Summit is approved for 3 CPE/CPA credits and 2.5 HRCI general credits. Seating is limited and local plan sponsors will receive priority registration. Additional details and registration information can be found on the registration page:
http://xgrowthsolutions.com/retirement-events/2015/06/2015-south-florida-fiduciary-summit/
About Work Plan Retire
Work Plan Retire's financial consulting practice has partners that are focused on advisory services for employer retirement plans. WPR services clients across the nation, with offices in South Florida, Denver and New York. Services are offered to successful companies who take their retirement plan seriously. WPR is most effective with clients that have strong company cultures and are successful within their industry. WPR works with investment committees that are committed to creating outstanding benefit programs for their employees and strive toward fiduciary best practices. WPR has built their practice since 2002 by servicing clients with over $1 billion in retirement assets and thousands of employees.
WPR helps plan fiduciaries optimize their retirement plan and measure participant success. WPR believes employees on track for retirement are more productive in their jobs, more loyal to the employer and ultimately more valuable to themselves and the employer. WPR will help you build and shape a retirement plan that attracts and retains the right type of employee talent your company covets.
WPR's commitment is to help you meet fiduciary obligations through investment committee meetings, policy statements, participant success tracking, investment reviews, plan design techniques and employee education.
workplanretire.com .com
About Xponential Growth Solutions
Xponential Growth Solutions (XGS) unites 401(k), 403(b) and retirement plan sponsors with elite resources and exclusive connections. Through research, fiduciary summits, and industry expertise they help the nation's retirement plan sponsors, fiduciaries, and trustees evaluate their plan and navigate the retirement plan industry. Working to help America reach their retirement goals one retirement plan at a time, XGS also founded the Retirement Plan Roadshow - a national series of fiduciary educational summits dedicated to human resources, finance and business professionals in charge of America's 401(k), 403(b), and retirement plans.
xgrowthsolutions.com