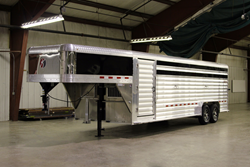 Unloading has never been easier, with ample room for turning and leading out with a halter and lead rope.
Kanawha, Iowa (PRWEB) April 17, 2015
Kiefer Manufacturing announces the new 7'6" wide Deluxe II trailer for the horse and livestock markets. The Deluxe II has been a mainstay trailer for Kiefer and its customers, and the company is excited to offer more interior room and increased user flexibility to horse and livestock owners when hauling their cargo.
The new width continues the industry-leading standards that have been associated with the standard Kiefer Deluxe II model. By increasing the width of the Deluxe II, it provides more room within the interior of the trailer, while still allowing effective use of mirrors when backing up. Unloading has also become easier with ample room for turning and leading out with a halter and lead rope. Some of the other existing Deluxe II standard features include double headers over every interior gate for more support, 4"x4" square tube superstructure that disperse stress away from the corners, quick slam latches for quick closure of doors and gates to keep livestock corralled. Log on to http://www.kiefermfg.com to learn about additional features of the Kiefer Deluxe II standard and wide versions.
"For us, it's all about the customer, how we can best serve them," says Randy Lewis, Sales and Marketing Manager for Kiefer Manufacturing. "We are very excited to offer this new width in our Deluxe II line, providing more flexibility while keeping the same high standards that make the Deluxe II one of our most popular products. We love it, and we know our customers will too."
Kiefer Manufacturing, a wholly owned subsidiary of Stellar Industries, Inc., is the preferred supplier of quality transport products. It is an aluminum and steel fabricator of horse, livestock, industrial and recreational trailers. Kiefer Manufacturing is headquartered in Kanawha, Iowa, with additional manufacturing facilities in Sneedville, Tennessee. Kiefer is committed to providing outstanding customer service, while continuing to search for new opportunities to improve and innovate its products as well as grow and diversity the company while operating with honesty and integrity.
# # #