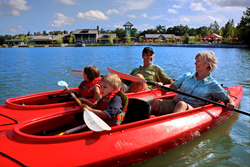 Top Places to Live in South Carolina
Hilton Head, South Carolina (PRWEB) April 16, 2015
Real Estate Scorecard has had their eye on Hampton Lake since 2008 and are thrilled after last month's visit to see how the freshwater lake lifestyle has unfolded. The Bluffton SC real estate development began back in 2005 during the bullish real estate market. By January 2009, Hampton Lake was honored as the Best Community in America by the National Association of Home Builders. A proud pedestal to stand on, a benchmark in best master planned communities.
Shortly thereafter and like everyone else, Hampton Lake experienced the real estate downturn and declining property values. But in 2013, several non-secured investors threatened litigation. Though never missing a payment on debt service, Hampton Lake LLC, the development's borrowing entity, voluntarily decided to seek Chapter 11 reorganization to restructure their debt and protect the existing homeowners and community. With decades of real estate development experience behind his belt, John Reed and the Reed team regrouped, reset Hampton Lake on firm ground, and pushed ahead. By January 2014, Hampton Lake LLC had successfully emerged from bankruptcy stronger than ever. In fact, 2014 was the best sales year for Hampton Lake since 2006, a clear statement of consumer confidence.
Real Estate Scorecard spent time at Hampton Lake to see it for themselves during the March 2015 Lowcountry Parade of Homes. The Bluffton SC real estate development had 15 homes to tour during the weekend event, new and resales. Things are booming at Hampton Lake. The staff observed 50+ new homes under construction. The community has all types of homes and styles to choose from or lots to build your own custom home. From maintenance free villa homes to single family estate homes. Each neighborhood has a style of its own with beautiful bicycle and walking trails connecting everything together. Home prices range from the $300k's to over $1 million. The average home price is in the $600k's and is what one would expect in best master planned communities. Hampton Lake is sweetly located 10 minutes from the heart of Old Town Bluffton where folks will find eclectic art galleries and seafood restaurants.
Take a peek at Hampton Lake homes
The 165 acre lake is truly a fresh water oasis and a boatable lake with 7 miles of waterways that weave throughout the community. Most of the new homes on the sparkling lake have docks or fishing piers behind them. The lake is clean and wonderfully cared for. Hampton Lake is a fisherman's dream. Real Estate Scorecard was told the largest tiger bass caught in the lake is around 11 pounds. This year 2,200 Black Crappie were introduced to the lake. In the center of the lake is an outfitter island and community park. Birdlife is seen everywhere and includes egrets, heron, osprey and bald eagles.
The Lakeside Amenity Village built early on during development was one of the smartest things Hampton Lake has done. It's what folks except to find at a vacation resort. Amenities include a lakefront resort-style swimming pool, children's water feature, sandy beach, rustic restaurant and outdoor tiki bar, huge fitness center, tennis courts, tackle store and boathouse. The staff enjoyed all of the amenities during the visit and could sense the enthusiasm and happiness from the employees.
The biggest surprise during the visit was when the Real Estate Scorecard staff had a sneak peek at Phase 3, a 439 acre land parcel adjacent to Hampton Lake. The site work was well underway. Lakes were dug out, trees cleared and utilities were being placed. They're told pre-sales may begin as early as the summer of 2015 and Real Estate Scorecard knows from experience this is the time to buy in best master planned communities. Could Phase 3 be the best of Hampton Lake? Folks will soon see.
There's always something going on at Hampton Lake. Events include What's Cookin' Wednesdays, the annual Oyster Roast, Music Night, Wingfest Parties and more. The community quarterly hosts a Lakeside Village Market with homemade crafts, baked goods and art. In the fall, the Tiger Bass 5K &12K Race draws about 400-500 runners.
Real Estate Scorecard was optimistically cautious about Hampton Lake in 2013. Today, Real Estate Scorecard applauds Hampton Lake's accomplishments. They see the Bluffton SC real estate development as a beautiful place to live in the Lowcountry and a place folks must see for themselves.
Contact Hampton Lake direct at 866.875.5253 to schedule a visit and tour their new homes.
About Real Estate Scorecard:
Real Estate Scorecard writes unbiased real estate reviews providing in-depth information about popular master planned communities in Florida, Georgia, the Carolinas, Tennessee, and Central America, all in an effort to help people discover where to retire in the South.
Website: http://realestatescorecard.com