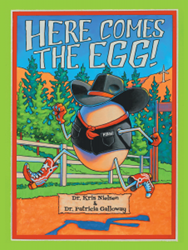 Intricate, colorful cartoon images adorn each page, cleverly concealing words and images.
CLE ELUM, Wash. –
(PRWEB) April 16, 2015 -- One fat hen, six simple Simons, eight elongated elephants and five flying foxes might seem like they have nothing in common. In fact, all play starring roles in a new puzzle book released by Dog Ear Publishing that combines hidden images, tongue twisters and cleverly disguised numbers. Once readers have solved all the clues, they are invited to solve the book's riddle.
"Here Comes the Egg!" contains a clue on each page and incorporates numbers written in 12 languages from Japanese to Swedish, Turkish and Afrikaans. The book, based on a poem the two authors wrote, features high-stepping fowl, racing rabbits, sailing Siamese cats, and an egg dressed as a cowboy, including boots and a 10-gallon hat. Intricate, colorful cartoon images adorn each page, cleverly concealing words and images. The authors include a handy place to write down clues for each page, as well as answers for the riddle.
Authors Kris Nielsen and Patricia Galloway ran a company together, Pegasus Global Holdings Inc., which oversees national and international building projects. They earned more than 20 awards for their efforts in engineering, construction management and arbitration, publishing their work in books such as "Managing Gigaprojects – Advice from Those Who Have Been There, Done That."
Nielson earned the Outstanding Projects and Leaders Award for pioneering the advancement of risk management in the construction industry, the American Society of Civil Engineers' highest award. He was just as skilled with words, creating poetry and tongue twisters. Nielson died in 2013 after battling cancer for more than two years. The book is dedicated to him.
Galloway, president and CEO of Pegasus Global Holdings, also serves in those roles for the Kris Nielsen and Patricia Galloway Foundation. The organization helps fund research on combining science and engineering with social management systems, as well as providing awareness about it. A portion of proceeds from the book will go to the foundation.
The book was illustrated by award-winning artist Lucas Orthmann. His art includes oil paintings, illustrations, public art, stained glass windows and murals. Orthmann has taught painting workshops at galleries and instructed at Yakima (Wash.) Valley Community College. He exhibits his work across the country.
----------
For additional information, please visit http://www.HereComesTheEgg.com
Here Comes the Egg!
Kris Nielsen and Patricia Galloway
Dog Ear Publishing
ISBN: 978-1-4575-3390-7 52 pages Paperback $14.95 US
ISBN: 978-145753-469-0 52 pages Hardcover $24.95 US
ISBN: 978-145753-699-1 ebook $9.99 US
Available at Ingram, Amazon.com, Barnes & Noble and fine bookstores everywhere.
About Dog Ear Publishing, LLC
Dog Ear Publishing offers completely customized self-publishing services for independent authors. We provide cost-effective, fast, and highly profitable services to publish and distribute independently published books. Our book publishing and distribution services reach worldwide. Dog Ear authors retain all rights and complete creative control throughout the entire self-publishing process. Self-publishing services are available globally at dogearpublishing.net and from our offices in Indianapolis.
Dog Ear Publishing – self-publishing that actually makes sense.