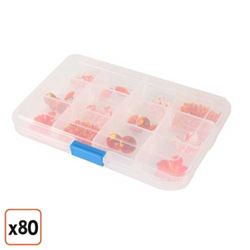 "Our diverse selection allows for optimal storage and organization no matter the space or project."
Urbana, Iowa (PRWEB) April 17, 2015
Online retailer JustPlasticBoxes.com is adding new products just in time for spring cleaning.
The website offers plastic storage boxes in a variety of sizes, styles and colors and specializes in wholesale pricing, meaning the more you buy the more you save.
JustPlasticBoxes.com recently added several Small Craft Cases by Iris. The plastic containers come in various sizes, featuring dividers great for organizing school, craft and office supplies. A Small Pencil Box is also new to the website along with a Large Clip Box great for storing paper, files and other office products.
Barb Rawson, a product specialist for JustPlasticBoxes, says many of the site's plastic storage containers can be used for multiple purposes.
"Just because it says craft case doesn't mean it's used only for craft supplies," Rawson said. "They can be used for jewelry and hair accessories, really anything. The options are endless."
Other new product additions include Medium Stacking Drawers by Iris. These plastic, stackable storage drawers feature fun colors like sunkiss pink, pistachio green and navy blue. The drawers on these containers are deep, and can be used for home, office or classroom organizing.
JustPlasticBoxes.com is also expanding its line of popular Flip-N-Stack Baskets by Dial. The baskets are designed with rotating handles allowing them to stack on top of each other, or collapse for easy storage inside of each other. The website now offers medium sized baskets in purple and orange along with a small, clear basket. This specific style is popular in classrooms and pharmacies.
"We are committed to offering a wide selection of storage containers," Rawson said. "Our diverse selection allows for optimal storage and organization no matter the space or project."
JustPlasticBoxes.com incentivizes bulk orders and offers free shipping. A chart on each product page breaks down the price and discount based on quantity. However, single items can be purchased by calling the JustPlasticBoxes sales team toll free at 800-736-0651.
About JustPlasticBoxes.com
JustPlasticBoxes is owned by Clickstop, Inc., an online retailer of niche brands in several different categories. Websites under the Clickstop company umbrella also include SpaceSavers.com, USCargoControl.com and EcoFoil.com. With strong vendor relationships from Clickstop's large e-commerce presence, JustPlasticBoxes is proud to offer high quality brand name plastic storage boxes at value prices with free delivery.