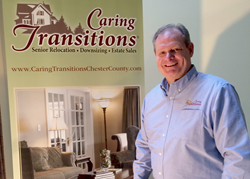 Chester Springs, PA (PRWEB) April 14, 2015
With 35 years of business management experience and extensive experience servicing the healthcare sector, John Hall is looking forward to helping local seniors with the launch of his new business, Caring Transitions of Chester County. Caring Transitions provides concierge-type services to help families through often difficult life transitions.
"What makes Caring Transitions appealing is that our services eliminate much of the anxiety associated with relocation – stress that's amplified when being coordinated by a remote family member. By implementing a personalized plan that focuses on the family's needs, we ensure a timely move and smooth resettlement, often accelerate the home's readiness for sale and generate proceeds from the estate liquidation to pay for moving expenses," Hall said.
Caring Transitions is America's largest resource specializing in managing relocations for seniors, downsizing and estate liquidations. Caring Transitions provides services that include organizing, space planning, packing and move management, resettlement, cleanout, online auctions and traditional estate sales. The service area for Caring Transitions of Chester County covers: Berwyn, Chadds Ford, Chester Springs, Coatesville, Devon, Downingtown, Exton, Frazer, Glenmoore, Honey Brook, Kennett Square, Malvern, Paoli, Phoenixville, Unionville, West Chester, surrounding communities and parts of Montgomery and Lancaster counties.
"What I love about our services is that we approach each client on a personalized basis; knowing that 'caring' in Caring Transitions means we are flexible and compassionate in meeting our clients' needs. Transitions necessitated by a change in health or the passing of a loved one can be very stressful. It's quite satisfying to help an individual or family regain control after being overwhelmed by the prospect of sorting and distributing a lifetime of memories and belongings," Hall said.
Hall and his wife Kim settled in Chester Springs to raise their family more than 20 years ago when he returned to the area as an executive with the former Shared Medical Systems (SMS) in Malvern. While in that career, he saw firsthand the value operational excellence and trusting relationships had in supporting patients in their healthcare settings. Subsequently, Hall worked for several other companies in the healthcare field and developed a deep appreciation for the needs of the elderly, disabled and chronically ill.
"During the last decade my wife and I have each lost close family members. We felt the stress that comes with being overwhelmed by a life transition firsthand. In talking with friends, they too had similar experiences. We knew there was a need for support during these critical times. When I discovered the services of Caring Transitions, I knew I had found something that could make a difference," Hall said.
Hall is a Certified Relocation and Transition Specialist (CRTS), a designation bestowed by an independent organization that evaluates senior relocation services. He is a member of Net-Care, a networking group dedicated to supporting the needs of seniors. Caring Transitions of Chester County expects to create new job opportunities in the area as the business grows.
Founded in 2006, Caring Transitions has been a trusted and highly respected national company leading the way in senior relocation, household liquidations and estate sale management in more than 150 locations across the United States. All Caring Transitions employees are trained, bonded and insured. Caring Transitions is part of the International Franchise Association, the Small Business Association's Franchise Registry, VetFran and Minority Fran.
For information on how Caring Transitions of Chester County can serve you, call 484-679-8199, email jhall(at)caringtransitions.net or visit http://www.CaringTransitionsChesterCounty.com.
About Caring Transitions
Caring Transitions, founded in 2006, is the first national franchising concept specializing in senior relocation and transition services. With more than 150 locations throughout the United States all owned and operated by Certified Relocation and Transition Specialists, Caring Transitions provides clients with supportive moves, auctions, rightsizing and transitions. This includes expert advice plus a well-executed transition plan beginning with the initial sorting of personal belongings through packing, shipping and selling of items to the final clearing and cleaning of the property.
Caring Transitions is part of Strategic Franchising Systems. It is a member of the International Franchise Association, the Small Business Association's Franchise Registry, VetFran and Minority Fran.