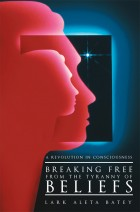 LINCOLN, Neb. (PRWEB) April 15, 2015
Beliefs create the cultures that define and connect people. Over time belief systems, even though many are suppressive and restrictive, become the truth of the culture. If those living within those belief systems are not willing or able to accept or explore new ideas they are forced to live in a society that limits ideas, visions, dreams and creativity.
Lark Aleta Batey has more than 30 years of experience, education, and exploration in human relations and spiritual psychology. She provides the tools for a fascinating and liberating journey of systematic self-exploration that can inspire an opening to truths within and stimulate realizations that will lead to deeper understanding of ones purpose on Earth. In her new preparatory book, she encourages readers to keep an open mind and engage in self-exploration, which will lead to new truths preparing human consciousness for a new paradigm on a new earth.
At the foundational level of westernized culture is a Core Belief Matrix. Batey has identified seven embedded beliefs of that matrix that bind us to a limited perspective. Throughout her book she unveils the profound influence the matrix has on collective and individual belief systems. "Breaking Free from the Tyranny of Beliefs" investigates the matrix, reveals the ruse and encourages conversation to break free from the limitations of belief systems that will bring the explorer to the threshold of a new paradigm where glimpses of the sovereign self appear.
For more information, visit sovereignexplorer.net.
"Breaking Free from the Tyranny of Beliefs: A Revolution in Consciousness"
By Lark Aleta Batey
ISBN: 978-1-4525-4320-8
Available in softcover, hardcover, e-book
Available on Amazon, Barnes & Noble and Balboa Press
About the Author
Lark Aleta Batey's professional experience includes various positions within the human services field across a 40-year span. She currently works as resource developer for the Department of Health & Human Services in Nebraska. In tandem with her professional life she has explored her interests in spiritual psychology by attending more than 30 seminars and intensives, taken correspondence courses and read countless books of non-fiction and spiritual psychology. She has training in Psychosynthesis; has completed three years of teacher training through Corelight and attended all four levels of Matrix Energetics. She is the mother of six children and currently lives with her husband in Nebraska.