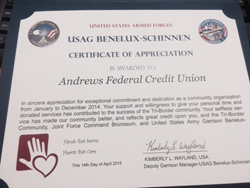 (PRWEB) April 15, 2015
Andrews Federal Credit Union recently supported the 5th annual Tri-Border Volunteer Recognition Ceremony at the USAG Schinnen Community Activity Center on Tuesday, April 14. At this joint ceremony, volunteers from the Tri-Border community including NATO Geilenkirchen Air Base, USAG Benelux-Schinnen and JFC Brunssum were recognized.
"The service of community volunteers affords our service members, civilians, retirees, and their families, activities and events that enhance their quality of life," said Andrews Federal Credit Union's James Niba, Schinnen Branch Manager. "Because of their commitment and tireless service to all, we are honored to support them and show our appreciation."
About Andrews Federal Credit Union
Andrews Federal Credit Union was founded in 1948 to serve the needs of military and civilian personnel by providing a vast array of financial products and services. With over $1 billion in assets, Andrews Federal has grown to serve more than 113,000 members in the District of Columbia, Joint Base Andrews (MD), Joint Base McGuire-Dix-Lakehurst (NJ), and military installations in central Germany, Belgium, and the Netherlands. In addition, the Credit Union serves as a financial partner with many select employee groups in Maryland, the District of Columbia, and New Jersey.
To learn more about Andrews Federal Credit Union and its community involvement, or to become a member, call 800.487.5500 or visit http://www.andrewsfcu.org.