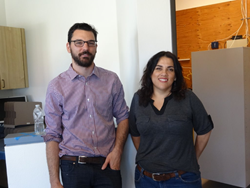 By establishing a private/public partnership with Sacramento's successful Hacker Lab to operate this innovation center, Sierra College can offer access to cutting edge tools, technology, resources and experts.
Rocklin, CA (PRWEB) April 15, 2015
Sierra College brought Hacker Lab, a co-working and maker space open to the community, to Rocklin and the organizations are hosting a Grand Opening on Thursday, May 7 from 5 to 7 P M at 4804 Granite Drive, Rocklin CA. There will be a ribbon cutting, presentations, tour of the space and light refreshments. RSVP at: http://www.meetup.com/HackerLab/events/221560316/
According to Willy Duncan, Sierra College Superintendent/President, the Hacker Lab Powered by Sierra College is one the first in the nation established by a community college in collaboration with a locally grown co-working and maker space. "Through this private/public partnership with Sacramento's successful Hacker Lab, Sierra College will be able to provide students and the Placer County community access to cutting edge tools, technology, resources and experts," said Duncan.
"Many universities have technology labs and private organizations run maker spaces," said Duncan. "Our strength will be the unique mix of people who can create, build and learn at the Rocklin location of Hacker Lab, backed by the power of Sierra College. I expect it will be a magnet for start-ups and entrepreneurs, offering amazing opportunities for our students as well as the wider community."
Eric Ullrich, co-founder of Hacker Lab, indicated that the new location in Rocklin has benefited from Sierra College's sponsorship. "We already have a 3D printer, laser cutter, CNC router, soldering and textiles lab all contributed by the Sierra College Center for Applied Competitive Technologies (CACT)," said Ullrich. "We've formed a community of people from the college, businesses and neighborhoods who are volunteering, teaching, using the labs and donating equipment to give the Rocklin location its unique character."
There are several membership options for using the co-working and/or maker space. Rates are available for students, individuals and families, ranging from $44.99 to $149/ month for access 24 hours per day, seven days per week. Sierra College staff, students and faculty can join Hacker Lab at discounted rates. Members can also use the mid-town Hacker Lab located at 1715 I St. in Sacramento. Many meet-ups are free, and other classes and events are priced separately.
Carol Pepper-Kittredge, Director, CACT, Sierra College, explained that Hacker Lab fulfills multiple goals. "By welcoming a mix of people from businesses, the community and the college, it will spur learning, innovation and creativity," said Pepper-Kittredge. "Hacker Lab will introduce young people to Science, Technology, Engineering & Math (STEM) Careers; provide authentic experiences for college students through project-based learning and internships; support the formation of new businesses and product development for existing companies; and create an exciting environment of creativity, making and learning for everyone."
For more information, go to http://hackerlab.org/sierracollege/.
About Sierra College CACT
Sierra College Center for Applied Competitive Technologies (CACT) is focused on Advanced Manufacturing training and development, and is funded through the Workforce and Economic Development program of the California Community College Chancellor's Office. Since 1992, the Sierra College CACT has provided customized training for organizations, manufacturers and technology companies throughout Northern California. Through the Sierra STEM Collaborative, Sierra College works with college faculty as well as middle and high schools to promote STEM Education and careers. Additional information is available at http://www.sierracollegetraining.com and http://www.sierraschoolworks.com or contact Carol Pepper-Kittredge at 916-660-7801 or cpepper-kittredge (at)sierracollege(dot)edu.
About Hacker Lab
Established in 2012 in Sacramento, Hacker Lab aims to educate folks and spark innovation with community driven resources. Offering co-working, maker space, courses, meet-ups and events, Hacker Lab believes that technology can change the world and the starting point is education. In 2014, Hacker Lab had over 200 members; 120 completed a survey and 33 provided company data that showed: $3.7 million in revenue was generated and 75 jobs were created, and 20 start-up ventures were launched. Hacker Lab has locations in Sacramento and Rocklin. Learn more at the Hacker Lab website http://hackerlab.org/.